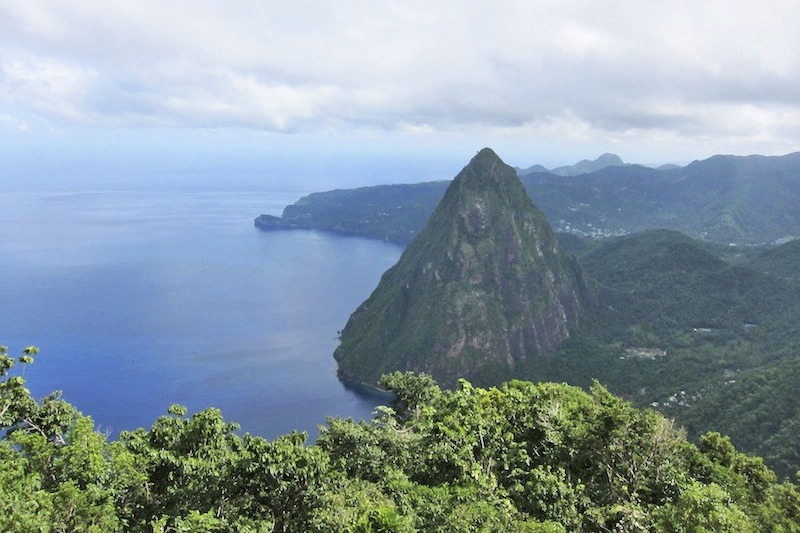 Long a favorite activity of the more adventurous guests who have come to St. Lucia, the Gros Piton Nature Trail continues to dazzle visitors with its views, natural beauty and charm. The trail head is located in the mountainside village of Fond Gens Libres, which is one St. Lucia's most quaint and historic communities. Translated as 'valley of the free people', Fond Gens Libres was established in the mid-1700s as a safe haven by rebel slaves, or Brigands as they were known, many of whose descendents still live there today.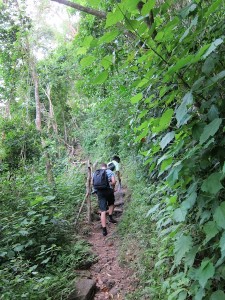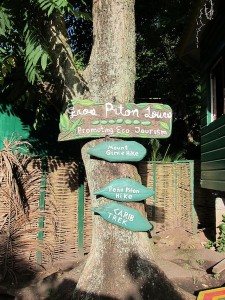 The trail has undergone some recent improvements as many steps on steep sections and over a mile of railing have been added to make the trail safer and easier for hikers. The trail is divided into two sections. The lower half features gentle slopes, local flora and fauna and great views and is doable by anyone of reasonable fitness. The upper half is steeper and presents a modest challenge to fit and active participants. Anyone who has made it to the top will testify the views are well worth the effort. And, of course, guests can take the bragging rights back home along with some spectacular photos.
Visitors not wishing to expend an all-out effort choosing only to do the bottom portion should not shy away from this tour as there is plenty else to do and see while others in the party are continuing on to the top. Those who turn around are escorted back to the village by a guide who are delighted to show guests around. The Gros Piton Nature Trail Visitor's Center provides information about the trail, the Pitons and the local area. There's also a souvenir shop and refreshments are available at a few different establishments.
Guides also escort guests to one of the most popular characters in the community, Dr. Twist, a wood carver who's become a visitor favorite. At his workshop, located at the village entrance, visitors can watch him carve while listening to one of his entertaining stories about the community for which he's become quite well known. He even invites visitors to try their hand at carving under his able tutelage.
Close by are some excellent ruins of an old sugar mill that are part of the Union Vale Estate, now the largest cocoa plantation on the island. Guides can provide a tour of the ruins which include an old water wheel and other equipment that were used in the production of sugar.
Where to Stay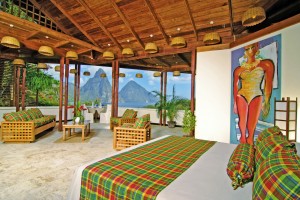 The following two resorts are within easy reach of Gros Piton Trail and enjoy one of St. Lucia's most scenic settings.
Tranquility, Romance, Adventure: You can still find the Classic Caribbean at Anse Chastanet on St. Lucia's quiet southwestern coast where two magical peaks, the Pitons, leap from the sea and the mountains are covered with luminous greenery.
Architect owner Nick Troubetzkoy believes passionately in nature. So he created a hotel that makes the foliage and the flowers, the perfumes and the peaks, the sea and the bird song an integral part of your vacation experience. The estate encompasses 600 lush tropical acres bordering two soft sand beaches. The resort's two crystal-clear bays are part of a designated marine reserve protecting miles of colorful coral reefs teeming with tropical fish.
A dozen rooms are tucked in behind the coconut palms that line the beach and the remainder tip toe up a flower decked hillside, taking advantage of the captivating scenery all around.
And while the sensuous seclusion of the rooms provides some guests with the perfect excuse for lolling away the day on the balcony, others head out to partake in the many activities on offer; yoga, snorkeling, scuba diving, tennis, sunset sailing, sea kayaking or jungle biking, hiking and bird-watching among the ruins of an 18th century colonial plantation.
Take advantage of ANSE CHASTANET's "Delight" offers. Enjoy the 6th night free of charge plus a US 150 per person, per stay, food and beverage credit, which will be deducted upon checkout. Valid for travel in room categories Standard, Superior and Beachside Deluxe. Book as early as possible as only a few rooms per category were assigned to this offer.
The offer is based on ANSE CHASTANET'S published daily rates. The daily rates per couple in room categories Standard, Superior and Beach Deluxe respectively are;
US $495 / $595 / $745 (Jan 3 – Apr 15, 2012)
US $385 / $475 / $615 (Apr 16 – May 31, 2012)
US $330 / $420 / $525 (Jun 1- Oct 31, 2012)
US $385 / $475 / $615 (Nov 1 – Dec 19, 2012)
Rates are room only rates and are subject to 18% tax/service charge. If the MAP plan (breakfast and dinner) is also prebooked, the 6th night free will include free MAP. All reservations are subject to availability at the resort.
For more information, visit www.ansechastanet.com or call 1-800-223-1108.
Rising majestically above the 600 acre beach front resort of Anse Chastanet, Jade Mountain is a cornucopia of organic architecture celebrating St Lucia's stunning scenic beauty. The bold architectural design with individual bridges leading to exceptional infinity pool sanctuaries makes Jade Mountain one of the Caribbean's most mesmerizing resort experiences.
Expect grand sweeping spaces where bedroom, living area and an extravagant private infinity pool glide into one another to form extraordinary platforms floating out into nature. With the fourth wall entirely absent, Jade Mountain's sanctuaries are stage-like settings from which to embrace the full glory of St Lucia's Pitons World Heritage Site, and of course, the eternal Caribbean Sea.
TAKE FIVE AT JADE MOUNTAIN
Enjoy a 5th NIGHT FREE at JADE MOUNTAIN for travel dates during selected 2012 dates when reserving a Sky Jacuzzi suite or a Star or Moon infinity pool sanctuary on either our daily rate or our TOTAL ROMANCE PACKAGE. Only a few sanctuaries are available in each category on basis of this promotion so book as early as possible to ensure your desired travel dates are available. Book no later than Dec 31, 2011.
2011 JADE MOUNTAIN daily rates per couple, per night, are:
US 1,200 / 1,550 / 1,800 / (Jan 3 – Apr 15, 2012)
US 1,050 / 1,350 /1,600 (Apr 16 – May 31, 2012)
US 950 / 1,250 / 1,500 (Jun 1 – Oct 31, 2012)
US 1,050 / 1,350 /1,600 (Nov 1 – Dec 19, 2012)
in Sky, Star and Moon sanctuaries respectively.
Add breakfast and dinner for US 180 per couple daily. Add an all inclusive meal plan for US 330 per couple daily. All above rates – rooms and meals – are subject to 8% tax and 10% service.
For more information visit www.jademountain.com or call 1-800-223-1108.