Nick Troubetzkoy is a Russian- Canadian architect hailing from the west coast of British Columbia where he worked in collaboration with noted architects such as Ron Thom, Bud Wood and Arthur Erickson. Troubetzkoy first came to Saint Lucia in the early 70's when he was asked to design vacation villas on the island. What was meant to be a brief stint in paradise, turned into a lifelong passion for the island and her people.
When an opportunity arose to purchase Anse Chastanet after his arrival on Saint Lucia, Troubetzkoy did not hesitate. Revolutionary thinking runs in Troubetzkoy's Russian veins, and from the onset, he was determined to revolutionize conventional thinking as to what a hotel room should look like and why one hotel room should not be a cookie cutter duplicate of the next.
Troubetzkoy's love for large open spaces built in harmony with nature was first realized in his re-design of  Anse Chastanet where no room is alike. Protection of the environment and sustainability were his concern long before they became fashionable causes.
Rooms were built around trees rather than cutting them down. The room design allowed for excellent natural air flow so that air-conditioning would not be necessary. Also, special emphasis was placed to keep as much economic benefit in the region and within the community as possible. Whatever could be grown, crafted or built locally was given preference.
In December 2006, after a 3 year building period, a second resort opened its doors, or more appropriately, its bridges, to an awe-struck international travel community: Jade Mountain is Troubetzkoy's boldest declaration of love (yet) for Saint Lucia's stunning beauty. Jade Mountain is a collection of 24 pool sanctuaries and 5 jacuzzi suites all of which look straight onto Saint Lucia's World Heritage site, the Pitons Mountains and the Caribbean Sea. Jade Mountain sits above its sister property Anse Chastanet so that guests can enjoy the seclusion of Jade Mountain yet visit the two beaches at Anse Chastanet and partake in the many activities offered there should they wish to emerge from their sanctuaries.
From the outset, it was Troubetzkoy's foremost desire to create a unique living experience that would not only take full advantage of the unforgettable views of Saint Lucia's Piton mountains but to essentially allow the onlooker to float into space and become one with them.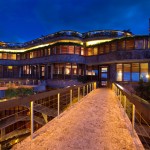 Troubetzkoy personally oversaw every aspect of the project. He was determined to not only create a unique experience, but to give each suite a completely different personality of its own. Not only do the suites and pools all differ in shape, size and layout but the furniture, wash basins and even the toilets hardly repeat themselves.
As with Anse Chastanet, it was Troubetzkoy's determination to keep as much economic benefit as possible in the region: the entire project was hand built with workmen from the local community of Soufriere. Troubetzkoy has great respect for the woodworkers and masons of St. Lucia, the quality of the massive hand set stonework and wooden finishes speak for themselves.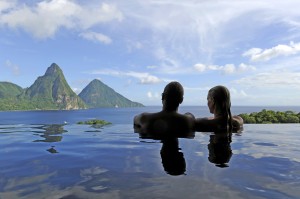 The interior  walls are finished in a crushed blush toned coral plaster sustainably quarried in Barbados.
The exterior is in massive rough concrete and imbued with locally quarried stone, with all the window openings framed with massive 3 inch x 18 inch tropical wood mullions and muntins which are in -filled with movable jalousie louvers. The flooring exposed to the weather is also finished with sustainably quarried coral tile from neighboring islands.
The living areas of the rooms are finished with more than 20 different species of tropical hardwood flooring and trims all of which were also sustainably harvested.
A Jade Mountain project representative actually visited the Rain Forest of Guyana and personally chose which trees to harvest. A multitude of hardwoods has been used including Purpleheart, Greenheart, Locust, Kabukali, Snakewood, Bloodwood, Etikburabali, Futukbali, Taurino, Mora and Cabbage Wood
In the creation of his Jade Mountain, Troubetzkoy took a particular interest in the recycled glass pool tiles which were designed in a symbiotic collaboration with David Knox of Lightstreams, an equally unconventionally thinking tile manufacturer, who – appreciating Troubetzkoy's design approach – created 24 stunning iridescent reflective pool tiles to match Nick's revolutionary creations with some of his own.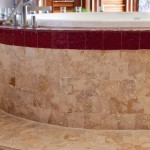 Each suite has different color pool tiles, from ruby red to amber to plum and to amazing shades of green and blue. Troubetzkoy asked that the mold for these tiles would be destroyed. This was part of the agreement so that the Jade Mountain tiles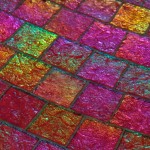 could in fact remain a unique, one of a kind design feature.
As a result of his commitment, Troubetzkoy was awarded the Counterpart International Emerald Award  " for high-end resorts combining a commitment to luxury and to the use of tourism to improve the destination, its people and the environment ". Counterpart president Lelei LeLaulu said that Jade Mountain had vaulted to the top of the world's most exclusive properties for its use of recycled material, water, and its dedication to conserving the environment, going so far as to send resort managers to the rainforests of Guyana to select the trees for use. He also gave top marks to " the resort's treatment of staff and a very low turnover".  On top of all this, said LeLaulu, Jade Mountain was "a design of extraordinary vision and boldness."
Many awards have followed since then, too numerous to list.
For more information about Saint Lucia's Anse Chastanet or Jade Mountain, visit the resort websites at http://wwww.ansechastanet.com and http://www.jademountain.com. Rates at Anse Chastanet range from US 600 – US 1175 nightly for 2 for travel until April 15, 2013. At Jade Mountain, rates begin at US 1500 and end at US 3250 for 2 for travel until April 15, 2013. There are free night promotions for stays of 5 nights and more in selected categories.Call 1-800-223-1108 for availability.