ANSE CHASTANET DEBUTS "CASUARINA" PITON POOL SUITE FOR WINTER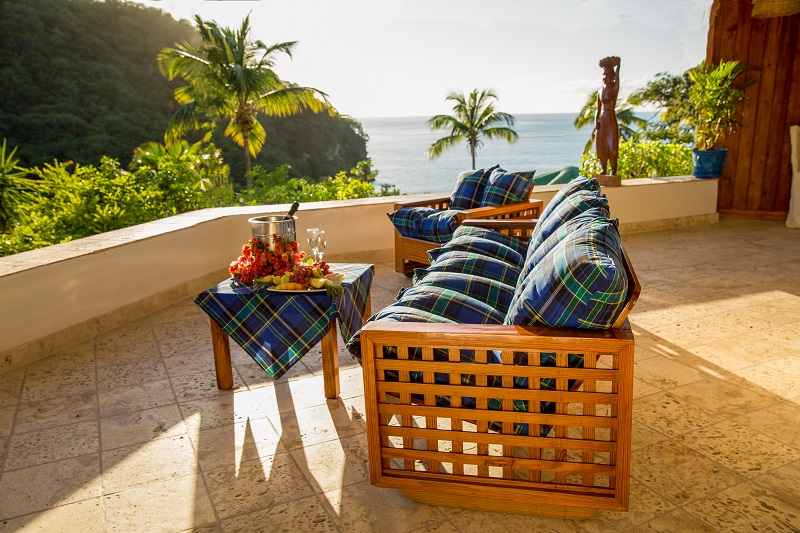 SOUFRIERE, St. Lucia (December 17, 2014) – The award-winning Anse Chastanet luxury resort in St. Lucia has unveiled refreshed accommodations just in time for the winter season.
The resort, recently recognized as the best value luxury experience in the Caribbean for the New Year by Condé Nast Johansens, has become even more luxurious.
Anse Chastanet's re-branded Casuarina suite features a brand new 160 square-foot pool surrounded by a 135-square deck designed with deck railing in the middle of the hillside resort with its breathtaking views of the storied Piton mountains rising from azure waters.
"The entire unit was redone and re-branded with a brand new bathroom as well as a huge walk-in closet," said Executive Director Karolin Troubetzkoy, who added the new accommodations were available for immediate bookings.
Exquisitely finished with coralina stone tiles and handcrafted furniture made from sustainably culled tropical hardwoods, Casuarina is nestled in lush foliage in a private hillside setting at Anse Chastanet Resort facing The Pitons and the Caribbean Sea.
The spacious bedroom with walk-in closet opens to a 420-square foot open walled patio-living room area. The grand bathroom, also with a Piton view, features a "Couples Shower" with "His" and "Hers" rain shower heads.
Anse Chastanet is offering daily rates for two at USD $1,150 (January 3-April 15, 2015), $1,015 (April 16-May 31 and November 1- December 19, 2015), $885 (June 1-October 31) plus 10 percent service charge and 10 percent VAT.
Breakfast and dinner can be added at $180 per couple per day, and an all-inclusive meals and drinks package can be added for $340 per couple daily.
Upon request, a second bedroom and bathroom can connect with Casuarina at the following add-on rates: $560 (January 3-April 15, 2015), $440 (April 16-May 31 and November 1-December 19, 2015), and $365 (June 1-October 31) plus 10 percent service charge and 10 percent VAT.
Delighted with the success of the Casuarina make-over, Troubetzkoy said plans are being laid for renovations to three similar Anse Chastanet rooms in the summer.
For reservations at Anse Chastanet, call 1 800 223-1108, email ansechastanet@ansechastanet.com or visit www.ansechastanet.com.
—
About Anse Chastanet
Tranquility, Romance, Adventure: You can still find the Classic Caribbean at Anse Chastanet on St. Lucia's quiet southwestern coast where two magical peaks, the Pitons, leap from the sea and the mountains are covered with luminous greenery. Architect owner Nick Troubetzkoy believes passionately in nature. So he created a hotel that makes the foliage and the flowers, the perfumes and the peaks, the sea and the bird song an integral part of your vacation experience. The estate encompasses 600 lush tropical acres bordering two soft sand beaches. The resort's two crystal-clear bays are part of a designated marine reserve protecting colorful coral reefs teeming with tropical fish.