Are you dreaming of a Caribbean destination wedding but worry that the price tag will be too high? There is no doubt that eloping to a Caribbean island paradise to tie the knot can be costly but with a little bit of research you may find that there are plenty of offers out there that are affordable and that in some instances a "free wedding" may be offered, at least as far as the cost of the wedding licence is concerned. And, if you are planning to bring along your family and friends, some resorts will work closely with you to tailor make a wedding arrangement in line with your budget expectations.
But even when on a budget, you should not completely stray away from your vision of the perfect Caribbean dream wedding and
follow the first best offer.  Choose the best suited island first of all, to make your dreams come true.
After all, the Caribbean consists of thousands of islands, islets and cays, some tiny and some very large, with a diverse history and a myriad of languages spoken, from English, French, Spanish, Dutch and more. And while some islands in the region have a relatively flat terrain of non-volcanic origin, others possess rugged towering mountain-ranges.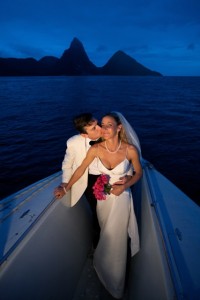 If your  "perfect"  island should be "romantic by nature", offer great beaches for the wedding location or perhaps an amazing view as a backdrop, then the Eastern Caribbean island of Saint Lucia may very well be the right choice for you. Saint Lucia has consistently been recognized by travelers and the travel press at large as one of the World's most romantic  destinations. Many of the resorts on island cater to couples exclusively and almost all offer wedding arrangements. Free wedding offers are available at selected properties.
And while some of the larger resorts arrange more than one wedding a day, you will find that the smaller ones often grant wedding couples exclusivity for their special day.
This is the case at Anse Chastanet Resort in Soufriere.  The resort has been called "One of the World's Top Ten Most Romantic Resorts" by A&E Television and has been consistently recognized  as one of the Caribbean's Top 25 Resorts in the reader awards of various travel
magazines such as Travel and Leisure and Conde Nast Traveler. It therefore should not come as a surprise that the resort is a favorite among weddingmooners and honeymooners alike.
"We celebrate about 15 weddings a month here at Anse Chastanet and perhaps 4 of these weddings are group weddings, with the numbers of guests ranging from 6 to 60 as an average", says Karolin Troubetzkoy, the Director to Marketing.
Like many of the resorts on island, Anse Chastanet has their own in house wedding department.   "Our wedding communicator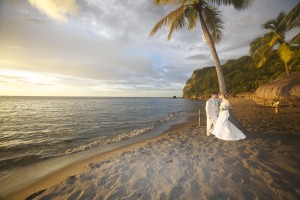 starts the process by beginning a dialogue with the bride and groom prior to arrival, then hands over all pre arrival arrangements to the wedding coordinator, who meets the couple on arrival, oversees them signing their wedding application and takes it from there", says Troubetzkoy.
The level of involvement in the wedding planning changes from couple to couple, says Troubetzkoy. "Some couples leave absolutely everything to us and keep the arrangements to the bare minimum, while some others take an in depth interest in absolutely everything".
The good news, she says, is that the wedding department  adapts to each and every couple individually, thereby ensuring that  the weddings at Anse Chastanet are always unique in character. Anse Chastanet was one of the first resorts to create a specific wedding website for their clients, called Elope to Paradise Weddings and a wedding specific Facebook page called St.Lucia Weddings .
When asked about weddings on a budget, Troubetzkoy says that the resort often prepares specific quotes according to a pre- set budget rather than sending out lengthy price lists.
"While I have not researched in detail what the average Caribbean wedding on a budget may cost, we here at Anse Chastanet can certainly prepare a proposal for  a group of 8-10 guests for travel this summer and keep the overall expenditure at US 10.000", she says. "Likewise, we are more than able to work with a budget of US 100.000", she adds with a smile, in reference to Anse Chastanet's sister property Jade Mountain.
Anse Chastanet sits amidst a 600 acre estate with two beaches, and there even is an Old Colonial plantation with historical ruins from the 18th century which make an excellent wedding backdrop.
Anse Chastanet also offers a free wedding package this summer, but with limited availability and restricted to certain room categories: The free wedding package applies for guests reserving a Hillside Deluxe or Premium room  and staying a minimum 7 nights at ANSE CHASTANET between August 1 – September 30, 2011. The free wedding includes costs of the Justice of the Peace, registrar, wedding license, marriage certificate and all legal fees; expert services of a personal wedding coordinator and ANSE CHASTANET team members to handle all arrangements; messenger service and transportation of documents; witnesses, if required; use of half-day room for groom if required; choice of wedding locations on 600 acre property including Treehouse and Kai La Mer; decoration of wedding location; decorated wedding arch; wedding bouquet; button hole for groom; wedding cake; bottle of champagne; special decorated dinner table for wedding party.The Anse Chastanet St.Lucia free wedding promotion may be combinable with other promotional offers.  Rates at Anse Chastanet start at US 575 nightly for 2 in a Hillside Deluxe room, plus 18% tax/service. The all inclusive TOTAL ROMANCE package starts at US 6984 this summer in a Hillside Deluxe room, based on Anse Chastanet's 7th night free Lovers' Early Bird Promotion. Currently, both promotions can be combined. The value of the free wedding package is US 995. Book by June 30, 2011.
For more information, visit Anse Chastanet, call 1-800-223-1108 or email ansechastanet@candw.lc