Jade Mountain Opens Interactive Laboratory Making Chocolate in St Lucia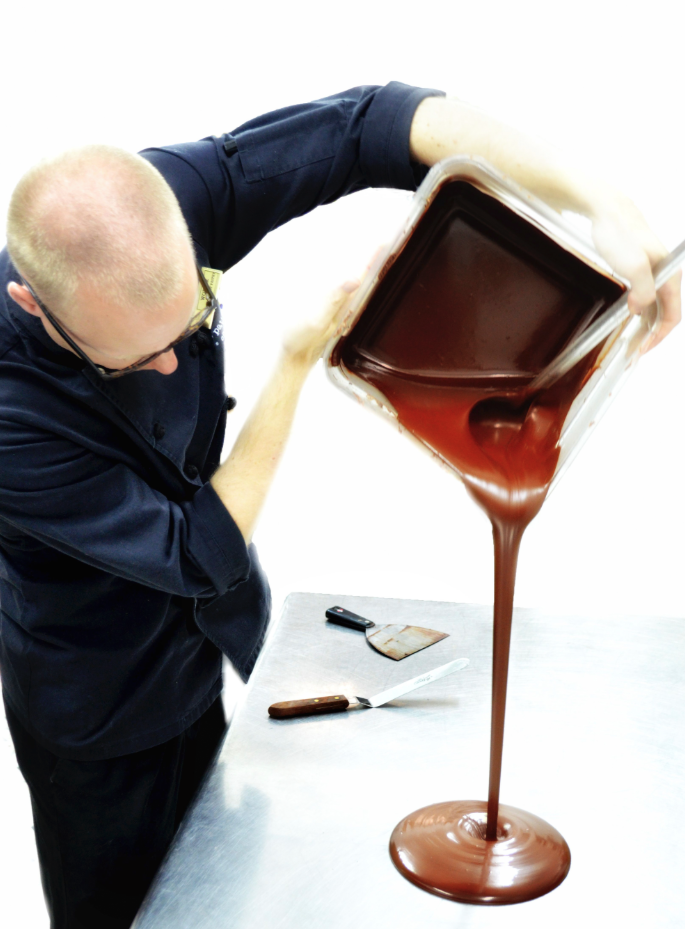 Guests staying at Saint Lucia resorts Anse Chastanet and Jade Mountain can now make their own chocolate in the resorts' brand-new chocolate laboratory.  Jade Mountain and Anse Chastanet are not only two of Saint Lucia's most scenic resorts they also are the island's only bean to bar organic single estate boutique chocolate maker.  There are over 1000 cocoa trees on the resort estates, including the organic farm Emerald's in the Soufriere Hills. For the past 3 years, Jade Mountain and Anse Chastanet have hand-crafted Emerald Estate Chocolate for the enjoyment of their guests and with the opening of its chocolate laboratory, guests are now able to not only taste but participate in the making of the chocolate in st lucia.
Resort guests staying at Jade Mountain and at the adjoining sister property Anse Chastanet can now choose from a variety of chocolate infused activities like chocolate sensory tastings, educational estate trips and truffle making classes on a year round basis.  Chocolate lovers will be further enticed by chocolate inspired dishes, cocktails and body treatments in the resort restaurants, bars and spa. And for the ultimate chocolate fest, visit Jade Mountain and Anse Chastanet during their annual Discover Chocolate Festival from October 10-14, 2014.
Here are a few sweet examples of the chocolate experience:
Chocolate Sensory Tasting; An awakening journey through the flavor palate of cocoa and chocolate. First taste the cocoa bean, which is the very first step in chocolate production, and end the tasting with the strongest type of cocoa mass while sampling all steps in between. As a culmination of the sensory tasting session, guests get to sample some homemade truffles and a variety of Emerald Estate Organic Chocolate bars. Tuesday from 10:00 – 10:30 am in the Emerald Restaurant. Offered on complimentary to resort guests
Discover Chocolate: Taking the Chocolate Sensory Tasting a step further, guests participate in the actual making of chocolate in the Chocolate Lab. Guests learn the basic techniques of making chocolate, tempering chocolate, creating their own fudge and making personalized chocolate bar. Tuesday from 10:30 – 11:30 am in the Chocolate Lab.  $45 per person; Minimum 2, maximum 6 persons per session.
The Emerald Estate Tree to Bar Tour: Guests will visit the Emerald Estate for a Cocoa Tour to experience the complete cycle of "Tree to Bar" production, learning about the history of chocolate in the Caribbean and the production process. At Emerald Estate, guests will first witness the natural side of cocoa including tasting raw cacao while discussing the fermentation, sun drying and polishing of the beans. Then they will return to the Chocolate Lab, where the host will elaborate on the technical part of making the perfect chocolate bar. This 2 hour guided experience takes guests through cocoa bean roasting, grinding and conching in the making of chocolate to create the perfect snap and shine. Along the way, guests will enjoy an invigorating cup of local cocoa tea and the Emerald Estate's organic chocolate bars that range from 60 %, 70 % and 92 % Bittersweet. Guests will receive a Bar of Emerald Estate Organic Chocolate as the farewell souvenir to take home. Monday from 9:00 – 11:00 am, $75 per person. Minimum 2, maximum 6 persons per session.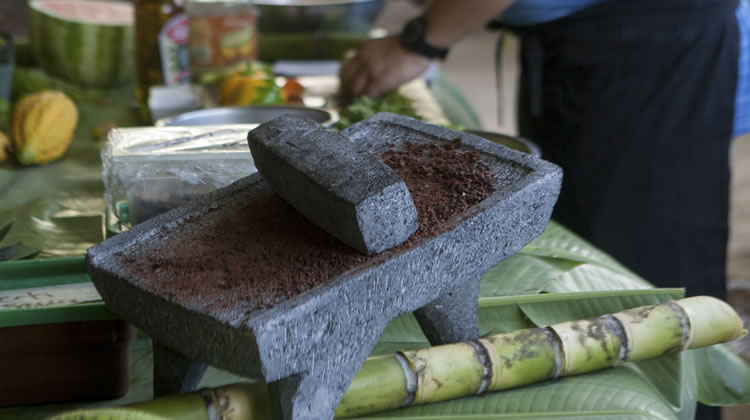 About the Chocolate Laboratory
Cocoa history on Saint Lucia dates back to the early 1700's. There are many plantations on the island that have been harvesting and producing cocoa for many years supplying the local market and culture as well as becoming a part of the international commodity of Cocoa. In celebration, the month of August has been declared the Month of Chocolate in St Lucia.
In close collaboration with the resorts' Consulting Chef Allen Susser, Jade Mountain's Emerald Estate Organic Chocolate and Chocolate Laboratory are managed by the resorts' very own Chocolate Alchemist and Director of Pastry Wouter Tjeertes.  For the past 17 years, Wouter Tjeertes worked in a number of countries before calling St. Lucia his home. Born in The Netherlands, he knew he wanted to be a Pastry Chef from a young age and worked his way up through several highly recognized pastry shops and hotels in Europe and the Caribbean. Along the way, he developed a strong passion for cocoa and chocolate which led to a deep-rooted love affair with the Caribbean region. He says, "Making use of the incredible flavor palate the Caribbean has to offer and maintaining the highest possible standards of quality are my greatest obsessions."
About Jade Mountain and Anse Chastanet
Tranquility, Romance, Adventure: ANSE CHASTANET is one of the Caribbean's most panoramic resort hideaways. Nestled amidst a 600 acre estate with two soft sand beaches bordering pristine coral reefs, ANSE CHASTANET offers excellent diving facilities and soft adventure activities.
Rising majestically above sister property Anse Chastanet's 600 acre estate with 2 beaches, JADE MOUNTAIN is an architectural marvel celebrating Saint Lucia's stunning scenic beauty. The 24 open -walled sanctuaries are grand sweeping spaces each with an extravagantly sized private infinity pool floating out into nature and to amazing views.
Enjoy fine dining options plus an entirely vegetarian restaurant using produce from the resorts' organic farm Emerald's. Resort activities include yoga, daily escorted walking or hiking tours, jungle biking on 12 miles of private trails, watersports with an excellent snorkeling and scuba diving centre. At the resort spas, a wide range of treatments are available including aromatherapy, ayurveda, and couples treatments and of course, chocolate infused spa treatments.
Both Jade Mountain and its sister property Anse Chastanet have been named one the world's top Caribbean hotels by Condé Nast Traveler and Travel + Leisure.                                 
For more information visit www.ansechastanet.com , www.jademountain.com
Email : jademountain@ansechastanet.com or call +758-459-7000