EXCLUSIVE "TOP 25" LIST FROM AMERICAN EXPRESS TRAVEL HONORS SAINT LUCIA'S JADE MOUNTAIN RESORT FOR 'MOST BREATHTAKING VIEWS'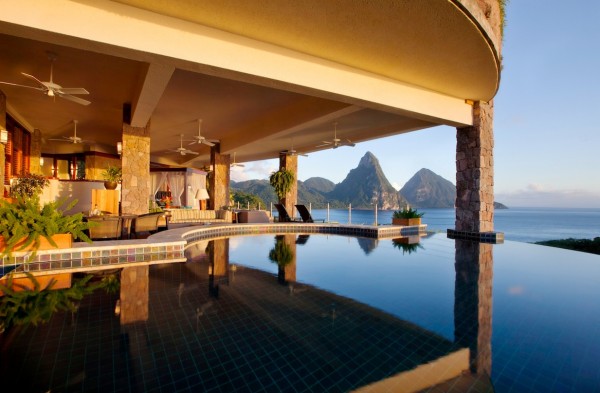 St.Lucia, May 2016: Jade Mountain, the unique Saint Lucia resort known for its open-air sanctuaries and picture-perfect panoramas, has just rated a spot on American Express Travel's list of the world's top 25 hotels offering a "Best in Class" customer experience.
Jade Mountain won the award for "Most Breathtaking Views."
This exclusive list was selected from the portfolio of more than 800 luxury getaways worldwide recommended by American Express Travel's Fine Hotels & Resorts (FHR). The winning hotels were chosen by an elite group of globetrotting experts: the editors at Departures magazine, American Express Travel Counselors and members of the company's executive team. "These are all hotels that deliver extraordinary experiences to our Card Members," American Express told the winners in a statement.
"We are absolutely thrilled to be recognized by American Express as their choice for Most Breathtaking View and to be in company with some of the most acclaimed hotels in the world," said Karolin Troubetzkoy, owner and marketing director of Jade Mountain and its adjacent sister hotel, Anse Chastanet.
From the outset, the goal of owner and architect Nick Troubetzkoy has been to showcase Saint Lucia's unrivaled beauty. The mountainside rooms, each with a wall open to the elements, are designed like prosceniums that perfectly frame the waters of the Caribbean and the twin Piton peaks, all part of a UNESCO World Heritage site.  As Troubetzkoy puts it, "What I've tried to do with Jade Mountain is to change the entire concept of a hotel room. I wanted to create environments that enable guests to forget about the furniture or the fact that they're in a hotel – in essence, to forget about everything other than experiencing the psychology of this unique space on an intuitive level."
With its mesmerizing panoramas, generously sized infinity pools and details like carefully handcrafted furnishings sourced from local materials, each room is a majestic, sweeping space that's a true work of art.  Jade Mountain is a labor of love and fitting tribute to Saint Lucia's exquisite beauty.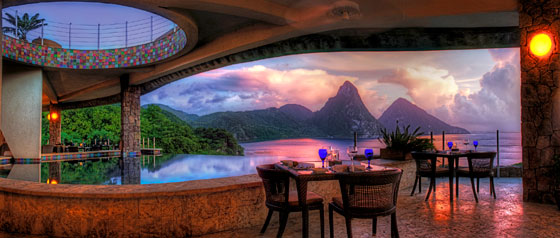 Both Anse Chastanet and Jade have been named one the world's top Caribbean hotels by Condé Nast Traveler and Travel + Leisure.
Rates at Jade Mountain start at US 1080 nightly for travel from June 1. Summer promotions offer up to 2 nights free. For more information,  call your travel advisor or visit www.jademountain.com