Could there be a better location to learn more about photography than on one of the Caribbean's most scenic islands ?
Photographers have an opportunity to learn lighting and camera techniques from one the world's leading photographers and educators at Saint Lucia's ANSE CHASTANET and JADE MOUNTAIN Resorts from Aug. 15-20, 2011.
Joe McNally , internationally acclaimed American photographer and long-time photojournalist, will conduct an intensive week of small flash education, emphasizing advanced techniques. "There is no more beautiful place to shoot, and to learn about light," says Joe McNally who has had a longstanding photographic love affair with the resorts.
You can read Joe's work shop blog here.
Classes will run from Monday, Aug. 15 through Friday, Aug. 20, 2011 and the program is listed below.
The 5 day educational seminar is available to resident guests of ANSE CHASTANET (www.ansechastanet.com)  and JADE MOUNTAIN (www.jademountain.com). The seminar price is US 1750 and includes location and model fees. Anse Chastanet  Resort offers a 6 night package beginning at US 2335 for a single occupancy standard room, US 1475 per person in a double occupancy standard room. Surcharges to other room categories or to Anse Chastanet's sister property Jade Mountain are available upon request. The package rate includes airport round trip transfers, all meals and tax and service. For more information on the Advanced Techniques/Hot Shoe Lighting Workshop,  you can contact lynn@joemcnally.com Tel: 203-438-4750.
Reservations for the seminar and Anse Chastanet or Jade Mountain can be made via email ansechastanet@candw.lc or contact 1-800-223-1108.
Joe Mc Nally is currently one of the best selling authors and educators in all of digital photography, world wide. For the location of his workshop he has once again chosen two of St. Lucia's most unique properties: Anse Chastanet and Jade Mountain. Anse Chastanet is nestled amidst 600 tropical acres with two soft sand beaches bordering pristine coral reefs, in complete harmony with its natural surroundings. St. Lucia's World Heritage site, the Pitons make for a spectacularly scenic backdrop. Jade Mountain, its sister property rising majestically above Anse Chastanet, is a cornucopia of organic architecture celebrating St Lucia's stunning scenic beauty. For resort information, visit http://www.ansechastanet.com and http://www.scubastlucia.com
Here is the workshop program, the information has been provided by JoeMcNally:
Monday Program:
Morning Session: 9am. Class meets in air conditioned conference room equipped with digital projector. Morning is devoted to assessing participant  portfolios and determining objectives for the week. Each participant to bring no more than 10 images for review and discussion. They can be the participant's images, or images not their own that they admire and wish to know more about, or emulate in some way.
Break from 12-3.
Afternoon session: 3pm. Instructor slide show. Demo of sensor cleaning techniques. Review of basic lighting strategies. Afternoon shooting session in teams with a model assigned to each team. Basic assignment: Use one light well.
Tuesday Program:
Meet in conference room at 9:30 for image review and critique. Time in class available to select and edit images for max of 3 per student to project.
Break from 12-3.
Afternoon demo and on location discussion of shooting interior/exterior environments effectively, with emphasis on using flash to balance exposure zones encountered in the open air rooms of Jade Mountain. Each team disperses with models to a selection of rooms to shoot for the afternoon. Assignment is to create mood and ambiance, while effectively using small flash techniques to blend interior and exterior environments.
Wednesday Program:
Meet in conference room at 9:30 for image review and critique. Time in class available to select and edit images for max of 3 per student to project.
Break from 12-3.
Afternoon Session: Instructor demo on blending flash with intense sun using advanced technique of high speed flash. Situation created to simulate wedding on the beach, and employment of techniques to successfully shoot a bride and groom in a fluid way as event unfolds. Teams assigned models, and rotate with various models, including wedding couple, for afternoon.
Alternative Location: Soufrieres Fire Department. Working to craft location driven, multiple flash portraits that show character and drama.
Bonus Evening Demo: Instructor will light and shoot a romantic dinner for two in terrace setting, showing selective flash techniques for couple at table, while blending sunset effectively. Use of gels, exposure techniques, grid spots, snots.
Thursday Program:
Meet in conference room at 9:30 for image review and critique. Time in class available to select and edit images for max of 3 per student to project.
Break from 12-3.
Afternoon Session: Photography in the jungle. Panning and blurring techniques with flash and jungle bikers. Demonstration by instructor in the art of creating images that move. Also portrait techniques demonstrated in intense, beautiful jungle environment. Teams assigned models to shoot for afternoon. Each team will have access to an experienced biker.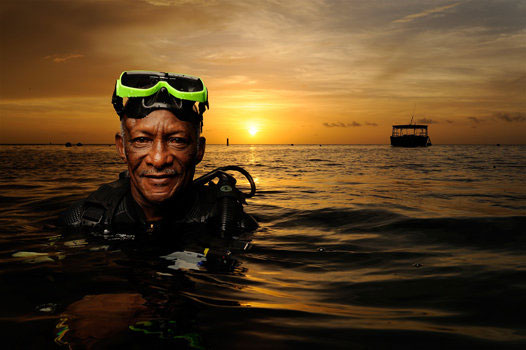 Friday Program:
Meet in conference room at 9:30 for image review and critique. Time in class available to select and edit images for max of 3 per student to project.
Break from 12-4.
Final Afternoon session: Meet in class to for final Q&A session and review of techniques learned. Last session late on Friday, class gathers on beach for spectacular "flambo" sunset session, with fires on the beach, models and flash lighting with gels. This session will employ new "radio TTL" equipment from Pocket Wizard. Wrap up gear at dusk, and retire to beach bar for goodbye drink. (Or several.)
All session times and subject matter subject to change pending availability of subjects, weather, rooms etc.
The week will be an informative, intensive look at the possibilities of small flash, and the nature of what is beautiful light and how to use it to make your pictures more eloquent and expressive. Each day will involve shooting all around the lush grounds of the resort, working with models, heading into jungle locations for action flash photography of mountain biking. During the "bad light" of the day, classroom sessions will take place discussing the theory and the practical use of flash photography. Each day of shooting will be followed the next day with a critique of the efforts in the field. The critique sessions will spur further investigation of the practical, fluid use of flash photography and how to improve your skills. Using light well is the key to making good pictures. Light is the language of photography. It is how photographers write the story of our subjects. With 30 years experience as one of the top magazine photographers in the world, touted by American Photographer magazine as "perhaps the most versatile photographer working today," Joe McNally knows light, and is renowned not only for his skills behind the camera but also his ability to convey those skills to others in a teaching environment. For five days, workshop participants will work with Joe and his assistants to ramp up their skills using flash, and learning to deal with: available light, and how to recognize good light; mixing flash with available light in a seamless and beautiful way; use of reflectors and diffusers; how to control and fire remote flashes for sophisticated, professional results; use of color and gels; the essentials of exposure; and how to craft a wonderful quality of portrait light which is essential to make storytelling photos of our subjects.