St. Lucia's premiere resort partners with Chef Allen Susser to share flavorful recipes inspired by the Caribbean
SOUFRIERE, ST. LUCIA – August 2020: The renowned Saint Lucian luxury resort, Jade Mountain, has partnered with James Beard Award-Winning Chef Allen Susser to debut "Jade Mountain Gastronomy," a digital cookbook that celebrates the bold flavors of the Caribbean and the world's tropical cultures. Susser is the consulting chef at Jade Mountain and its sister property, Anse Chastanet, where he works closely with the resorts' culinary teams to inspire menu creation and lead on-property events that have earned Jade Mountain its reputation as a culinary trendsetter within the region.
"Jade Mountain Gastronomy" is a collection of 75 simple and flavorful recipes exclusive to the island and resort. The book is divided into nine sections, ranging from Caribbean Spices and Creole Traditions to recipes from the resort's annual Mango Madness Festival, on-site Chocolate Lab, and Emerald Estate Organic Farm. Stand-out dishes include the famous charcoal-grilled Jungle Burger, West Indian Curried Lobster, Passion Fruit-Roasted Lionfish, St. Lucian Coffee-Crusted Filet Mignon, and Mango Cream Puffs. Throughout the book, Susser takes readers on a culinary journey that ignites the senses while showcasing the best in Caribbean cooking. The book details Susser's experience at Jade Mountain as well as his inspiration behind each recipe.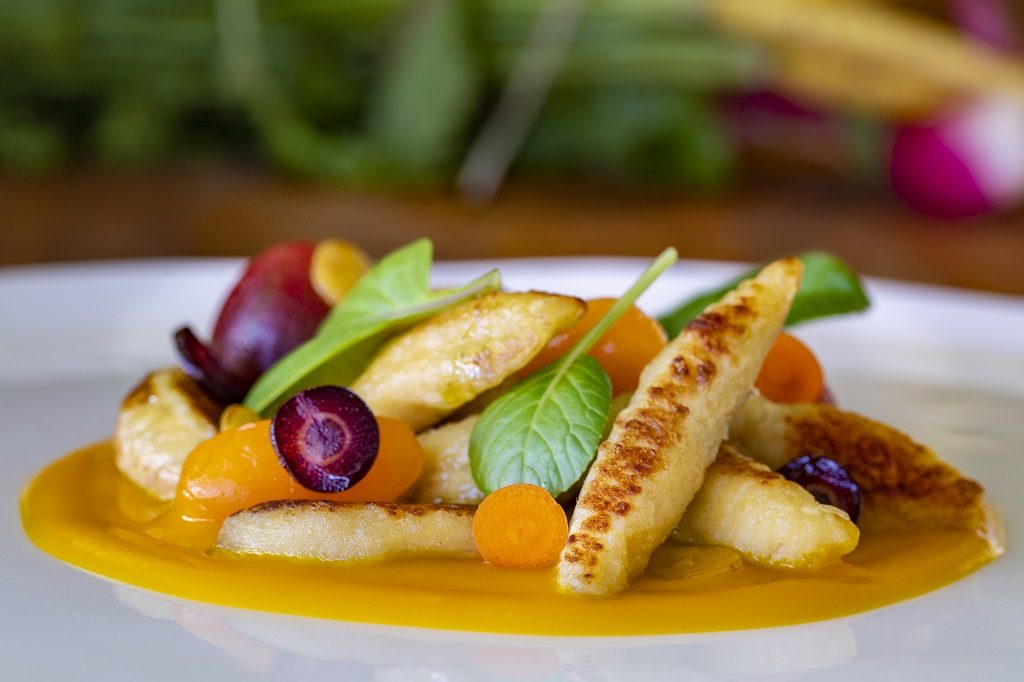 "I've always been enthralled by St. Lucia's natural beauty and flourishing agriculture. Local resources play a huge role in the experiential culinary programming we offer at Jade Mountain, from our 'Eat Them to Beat Them' lionfish hunting experience to organic farm tours with vegan cooking lessons, and our annual Mango Madness Festival, which celebrates one of the area's most culture-rich foods. Jade Mountain's unique architecture is a daily inspiration as the property's open-air design encourages guests to take advantage of their natural surroundings. "Jade Gastronomy" is more than just recipes. It's a collection of memories and anecdotes that tell the story of this incredible destination through food," said Susser.
Jade Mountain Executive Director Karolin Troubetzkoy, said "Throughout his culinary journey embracing tropical flavors, Chef Allen has always found innovative ways to use local produce to create our own unique taste of Saint Lucia. We wanted to design a cookbook that showcases all of the beautiful recipes and culinary programming he's created in partnership with our amazing and passionate local chefs. We hope the book will bring a taste of Jade cuisine to our readers at home and that they will be inspired to visit in person for the full sensory experience."
"Jade Mountain Gastronomy" can be purchased on Amazon.com. For more information on the resort, visit jademountain.com or call 758-459-7000.
ABOUT CHEF ALLEN SUSSER
James Beard Award-winning Chef Allen Susser has more than 30 years of experience helming the kitchens at top hotels and restaurants, ranging from Le Bristol Hotel and Le Cirque in New York City to his own concept in South Florida, Chef Allen's. The Brooklyn-born chef has been working with Jade Mountain for more than a decade. He recently debuted an award-winning cookbook, "Green Fig & Lionfish," which showcases his vast experience working with the invasive species and features guest recipes by celebrity chefs that include Jose Andres, Andrew Zimmern, and Nina Compton. He is also the author of "New World Cuisine and Cookery," "The Great Citrus Book," and "The Great Mango Book," and has accumulated various accolades, including an honorary Doctor of Culinary Arts from Johnson and Wales University. Susser is recognized as one of the Best 10 Chefs in America by Food & Wine.