Now offering weekly culinary events in addition to its popular yearly 
Culinary Festivals
(Soufriere, St.Lucia, January 15, 2015)  Jade Mountain announces a unique new Weekly Culinary Calendar to augment the resort's famous yearly Culinary Festivals.  Now "World's #1 Hotel" will be transformed into a wonderland for foodies and chocolate lovers…all year long!
The Weekly Culinary Calendar offers 11 ways every week for guests to discover their hidden cooking talents and enhance their appreciation of fresh and exotic ingredients with a series of master classes, walking/sampling tours and a chocolate-making workshop – all led by the savvy experts from the Jade staff.  Some highlights:
Cocoa Tree to Chocolate Bar

" is a sort of jungle stroll through the resort's private Emerald Estate combined with insights into the roasting, grinding and conching of cocoa beans.  Participants are refreshed during the 2-hour experience with local cocoa tea and rewarded with a bar of exclusive estate-made Organic Chocolate to savor on their homeward flights.
"

Tandoori Cooking Class

" takes place on the beach, late afternoon and introduces guests to the local secrets in "spicing up" St.Lucian/East-Indian Fusion dishes like Chicken Tandoori.
"

Chocolate, Wine and Paradise

" invites guests to look, sniff, swirl, sip and pick up some surprising pointers on pairings of wine and the world's favorite aphrodisiac.
"

Saint Lucia Rum Mixology Class/

" will help guests dazzle their friends back home when a Jade mixologist demonstrates how to concoct exotic rum drinks, including the perfect Coco Doux.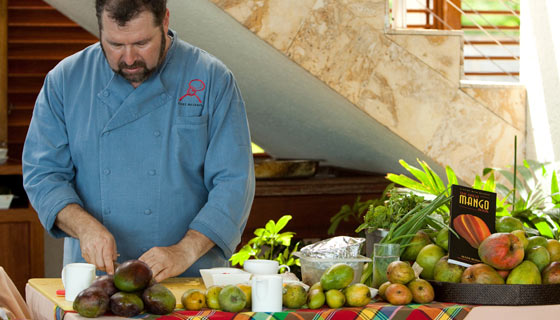 Most Weekly Culinary events are restricted to 6 participants so that everyone gets a chance to participate directly in workshops and hands-on cooking demonstrations.  Some events are free, some involve a fee.
For guests who wish to immerse themselves in Saint Lucia's indigenous culinary delights this year's Food Festivals will be held on the following dates:
March 20-24, Cooking in Paradise: Learning the virtues of a locally grown Caribbean cuisine.
June 12-17, Mango Madness Festival:  1001 things you can do with a mango before you die.
October 2-6, Jade Mountain's Discover Chocolate: A hands on interactive experience in the world of cacao and chocolate.
December 11-15, Spices of the Caribbean: A look into the island's Spice Box which captures flavors of exotic places…a vacation on a plate.
Full details on all events are available on the resort website at http://www.jademountain.com/events.html
What makes these culinary events very unique is that produce all come from the resorts own organic farm EMERALD ESTATE in the Soufriere hills. Here guests have a firsthand farm to table experience; visiting the farm and choosing ingredients from  vanilla beans, cocoa, bay leaf, nutmeg trees, cinnamon trees to numerous varieties of mango, sour oranges, and coconut trees — and then, voila!, producing a meal.
Apart from enhancing guests' culinary know-how, guests experience the wondrous enticements of the resort Travel & Leisure and Conde Nast readers named as one of the World's best three years in a row.
First, there's the extraordinary setting, with views of the old French colonial town of Soufriere and the iconic Twin Pitons, now part of a UNESCO World Heritage Site.  There's the soothing sense of space – just 22 suites with two beaches, 6,000 acres of historic private estate, more than a thousand cacao trees and an on-site Chocolate Laboratory.
Then there's Nick Troubetzkoy's visionary architecture featuring private bridges that lead to 29 suites called sanctuaries, 24 of which have stunning private infinity pools where the fourth wall should be, opening each sanctuary to the wide, open spaces and seeming to float in its space.
Meals are served in the Jade Mountain Club, a private hillside terrace where the much-acclaimed Jade Cuisine commands undivided attention even with those beguiling views beckoning from every table.
For reservations call 800-223-1108 or contact Jade Mountain Tel 758-459-7000, Fax 758-459-7700,  e-mail jademountain@ansechastanet.com
website: http://www.jademountain.com 758-459-7000
For press information, contact: Martha Morano, Morano Public Relations, 212-860-5566,Martha@moranopr.com
https://www.dropbox.com/sh/h4jii3xtrixe95w/oboaoaZIDC
https://www.dropbox.com/sh/lmoxj6g3cf9p367/1IbCROPOYh
ABOUT JADE MOUNTAIN RESORT:  The intoxicating pleasures of chocolate are almost outmatched by the serenity of award-winning Jade Mountain resort, which soars majestically above our exclusive 600-acre beachfront estate.  Jade is an architectural marvel that embraces and celebrates St. Lucia's stunning scenic beauty – the view from your suite is a UNESCO World Heritage Site.  The sanctuaries are grand sweeping spaces with extravagantly sized private infinity pools which appear to float out to nature and to the amazing views of the Pitons and Caribbean Sea – views that make a perfect backdrop for hours of reverie while savoring chocolate in all its wondrous