Jade Mountain Selected to Participate in Goût de France/Good France Worldwide Celebration of French Cuisine, March 19, 2015
(Soufriere, Saint Lucia, March 16, 2015)  Jade Mountain Club has been chosen to participate in Goût de France/Good France, a global celebration of French Cuisine.  On the eve of Spring, March 19, over 1000 selected chefs from five continents will simultaneously present their menus extolling the merits of the French kitchen.  This initiative was launched by Mr. Laurent Fabius, French Minister of Foreign Affairs and International Development, along with world-renowned 3- Michelin starred Chef Alain Ducasse.
http://www.alain-ducasse.com/en/actualites/launch-of-good-france-gout-de-france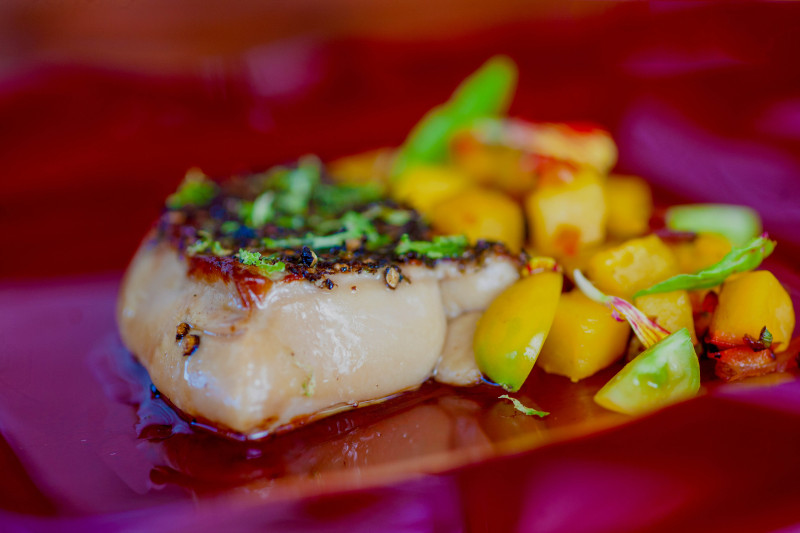 Jade Mountain's Executive Chef, Jeffery Forrest, will reveal his menu based on French Gastronomy integrated with the rich and plentiful ingredients indigenous to Saint Lucia.  Dishes will includeCured Lionfish with passion fruit caviar, fromage frais and Papaya mustard, Wahoo Aubergine andEmerald Mousse Chocolate from chocolate grown and produced onsite.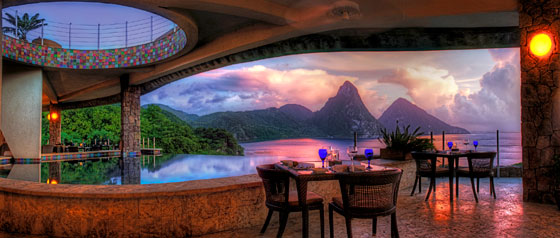 The philosophy of Jade Cuisine embraces the same French concepts of culinary exploration and the use of fresh farm-to-table ingredients.   The resort owns and runs their own organic plantation, Emerald Estate, a rich resource, producing bounteous fruits, vegetables and spices: turmeric, cashews, tamarind, mango, avocado, oranges, tangerines, guavas, papaya, coconut, breadfruit, yams and sweet potatoes. Cocoa plants are numerous on the grounds for guest to see and for the resort to produce their own estate chocolates.   Jade Cuisine mirrors the French philosophy of respecting the principles of high-quality, environmentally responsible cuisine.
How befitting it is that the French Cuisine which is on the World Heritage UNESCO list should be served on the Jades Club's Terrace hovering above the Caribbean Sea and the majestic Pitons, also a world UNESCO World Heritage  site. The food, service and ambience draw energy from the natural astonishing beauty of the mountains, seascape and sky.
ABOUT JADE MOUNTAIN RESORT; The award-winning Jade Mountain resort soars majestically above its exclusive 600-acre beachfront estate.  It is an architectural marvel that embraces and celebrates Saint Lucia's stunning scenic beauty.  The sanctuaries are grand sweeping spaces with extravagantly sized private infinity pools which appear to float out to nature and to the amazing views of the Pitons and Caribbean Sea – views that make a perfect backdrop for hours of reverie and romance.
For reservations call 800-223-1108 or contact Jade Mountain Tel 758-459-4000/7000/6100, Fax 758-459-4002, e-mail jademountain@ansechastanet.com, website: http://www.jademountain.com
For press information, contact: Martha Morano, Morano Public Relations, 212-860-5566, Martha@moranopr.com
Links to Images
https://www.dropbox.com/sh/h4jii3xtrixe95w/oboaoaZIDC