Brides Magazine has named Saint Lucia's Jade Mountain Resort the Number One honeymoon resort in the Caribbean in their April 2012 issue. 

As Brides describes, the decision was made after the magazine "…teamed up with the elite travel advisors of Virtuoso to find the best resorts, cities and islands for your big getaway."

It is official; the winning combination of the majestic natural beauty of Saint Lucia and the stunning architecture of Jade Mountain is perfect for lovers.

Owners, Karolin and architect Nick Troubetzkoy explain, "We have always been in the business of romance and through the creation of Jade Mountain, we have found a way to share with lovers the exquisite natural beauty and warm hospitality of Saint Lucia."
Built entirely in celebration of the legendary Pitons which are seen from every angle of the property, Jade Mountain is one of the World's most unique resort creations. Each of Jade Mountain's 24 sanctuaries has grand sweeping spaces where bedroom, living area and an extravagant private infinity pool glide into one another to form extraordinary platforms floating out into nature. With the fourth wall entirely absent, Jade Mountain's sanctuaries are stage-like settings from which to embrace the full glory of Saint Lucia's Pitons World Heritage Site and the Caribbean Sea.

The final "Red Rose Proposal" in one of the recent ABC's Bachelor series which took place on Jade Mountain's Celestial Terrace did not only leave the chosen bride- to- be breathless. Millions of viewers were enthralled by Saint Lucia's lush tropical and dramatic beauty, which can best be appreciated from viewpoints like Jade Mountain.

The resort team works together to fine tune every aspect of the resort experience so that the spectacular scenery and amazing accommodation is matched by outstanding service. Jade Mountain is one of only a handful of Caribbean properties with the coveted AAA 5 Diamond rating.
Honeymooners can indulge in elegant six course in-suite dining or a candle-lit private dinner on the beach, enticing in-suite spa
treatments or private couple's yoga class, a resort major domo drawing a bubble bath for two at a designated time and arranging a special rose petal turn down service. Couples can also dine at the Jade Mountain Club which offers cuisine by the celebrated James Beard award winner Allen Susser and his team, or sip a cocktail on the Celestial Terrace at sunset or later for star gazing.

For honeymooners seeking this ultimate romantic location, Jade Mountain offers several enchanting and creative packages: The all-inclusive TOTAL ROMANCE has been created with honeymooners in mind, visit http://www.jademountainstlucia.com/rates/romance2012.html for more information. Couples interested in celebrating their wedding at Jade Mountain can TAKE THE PLUNGE or for renewing their vows reserve the FOREVER YOU package. Visit http://www.jademountainstlucia.com/honeymoons_and_weddings.html for details on these wedding and renewal of vows packages.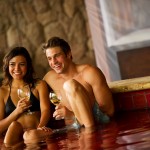 This summer, Jade Mountain offers a 5th AND 7th night free on basis of the Total Romance Packages, visit http://www.jademountainstlucia.com/promotions.html#summer-romance for more information. The promotion is subject to availability at the resort.
For reservations call 800-223-1108 or contact JADE MOUNTAIN RESORT at Tel 758-459-4000, Fax 758-459-4002, e-mail jademountain@ansechastanet.com website: www.jademountain.com