Not only Best of St.Lucia but Best of the Americas, Atlantic, Caribbean and Pacific Islands: JADE MOUNTAIN WINS CONDÉ NAST JOHANSENS 2012 AWARD FOR MOST EXCELLENT SERVICE
Soufriere, St. Lucia   — On January 12, Condé Nast Johansens, the international luxury travel guides from the most trusted name in travel publishing, Condé Nast Publications Ltd. announced  Jade Mountain St.Lucia as one of the winners of the 2012 Awards for Excellence.  The winners of these prestigious awards were chosen as the top properties throughout the Americas, Atlantic, Caribbean and Pacific Islands.
The properties were selected from an exclusive collection of luxury, boutique hotels, inns and resorts. Readers of the Guides, hotels guests and the Condé Nast Johansens inspection team all contributed votes. The 2012 Awards for Excellence cover 28 categories, including Most Excellent Resort, Most Excellent Hotel, Most Excellent Eco Resort, and Most Excellent Romantic Hideaway.
Lesley O'Malley-Keyes, Vice President & Publishing Director, The Americas noted, "The Awards for Excellence winners represent the very best of the best. Our readers are discerning and experienced travelers who know what they want when they travel – exceptional accommodations, outstanding service and good value for money. Condé Nast Johansens only recommends properties that meet these very specific standards."
Jade Mountain owners Nick and Karolin Troubetzkoy congratulated their Jade Mountain St.Lucia resort team for having made this award possible.  "The team's strong commitment to and great enthusiasm for the property and its guests is invaluable. You can set standards for a hotel operation, but the standards need to be carried out by a team that wholeheartedly embraces them and has the ambition to excel in everything they do. We do not only want to meet guest expectations with our service we want to exceed them every step of the way, and our team shares this philosophy ", says Karolin Troubetzkoy who is the Executive Director of Marketing and Operations of Jade Mountain and the Troubetzkoy's other property Anse Chastanet.
Nick Troubetzkoy, who also is the Chairman, architect and builder of St.Lucia's Jade Mountain, created one of the World's most unique resorts; the awe inspiring architectural design is rivaled only by the jaw dropping vistas of Saint Lucia's Piton Mountains, a Unesco World Heritage site, which can be seen from every angle of the resort property.  Jade Mountain's  sanctuaries are grand sweeping spaces, where bedroom, living room and an extravagantly sized private infinity pool form extraordinary platforms which appear to float out into nature. With the fourth wall entirely absent, Jade Mountain's sanctuaries are stage-like settings from which to embrace the full glory of Saint Lucia's Pitons and the shimmering Caribbean Sea.
Wrapped around an infinity pool with a dazzling kaleidoscope of colors, the Jade Mountain Club restaurant caters exclusively to resident guests, celebrating James Beard Award-winning Chef Allen Susser.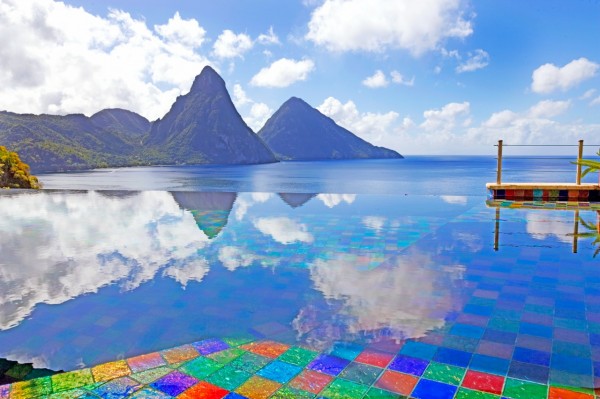 The Jade Mountain service team is led by the resort major -domos who are assigned to each guest at Jade Mountain and who look after their resort experience around the clock from arrival to departure.

Jade Mountain offers 5 jacuzzi suites and 24 infinity pool sanctuaries. Rates at Jade Mountain start at US 950 (+ 18% tax/service charge) this summer for a jacuzzi suite, and US 1250 (+ 18% tax/service charge) for an infinity pool sanctuary.
For more information, visit the resort website, follow Jade Mountain on Twitter, become a Jade Mountain Facebook fan, so simply call 1-800-223-1108. For the latest resort promotions, follow this link. Free night promotions are available. Honeymooners can enjoy an all-inclusive Total Romance Package. In the summer 2012, honeymooners wishing to have this amazing St.Lucia honeymoon experience can enjoy up to two nights free, click here for more information.