LEADING HOTELIER HONORED BY GOVERNMENT OF ST. LUCIA
ST. LUCIA (March 9, 2015) – A visionary champion of excellence in the Caribbean hospitality sector has been honored by the Government of St. Lucia.
As part of Independence Day honors on February 22, 2015, Governor General Her Excellency Dame Pearlette Louisy, as Chancellor of the National Societies of Honour, awarded The Saint Lucia Medal of Honour (Gold) to Nick Peter Troubetzkoy, for his outstanding contribution to the development of the tourism industry in St. Lucia.
Mr. Troubetzkoy is owner of the storied resorts, Jade Mountain and neighboring Anse Chastanet. The twin resorts often appear on lists of the world's leading properties.
Focused on providing a unique, world-class experience, Troubetzkoy wanted to create a luxury experience that was also genuinely St. Lucian.
Evidence of his deep appreciation for the island's beauty and culture can be seen in the original local artwork prominently displayed throughout Anse Chastanet and Jade Mountain, as well as the resorts' interactive activities featuring chocolate made from raw, organic cacao grown locally at the neighboring Emerald Estate.
Troubetzkoy aims to keep the economic benefits of his endeavors on island by investing in the community and by providing training for St. Lucians. "There is an immense pool of talent here and I wanted to ensure this enormous amount of skill could be put into a resort which they could feel well connected to," he said.
Since 1974, Troubetzkoy has been a deeply engaged member of the St. Lucian community. Originally from British Columbia, Canada he eventually became a St. Lucian citizen. He has played an important role in the creation of the Soufrière Foundation as well as the Soufrière Marine Management Authority, which conserves the fragile reefs and coastal waters.
Troubetzkoy believes that St. Lucia as a destination still has much development potential and he hopes to continue giving back to the community.
His dedication to the conservation of ecosystems when creating responsible tourism structures occurred at a time when the concept of sustainable tourism was just emerging.
Throughout the daily operations of the resorts, Troubetzkoy's teams emphasize the importance of the resorts' kitchens using organic produce grown at the neighboring Anse Mamin and Emerald estates.
More than a thousand local craftsmen and laborers helped to create Jade Mountain, which opened in 2006 and had an enormous impact on the community of Soufrière, providing long-term economic stability in one of the lesser developed areas of St. Lucia.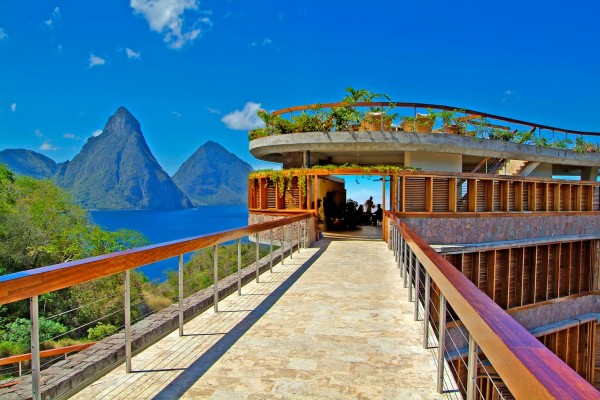 The combined staff of Anse Chastanet and Jade Mountain is in excess of 500 people, and many hundreds more have worked for varying periods of time over the decades, especially during construction and property enhancement phases.
For more information about Anse Chastanet and Jade Mountain, visit www.ansechastanet.com and www.jademountain.com.