Don't we all know it : St.Lucia's amazing scenic beauty is one of the main reasons why travelers looking for a Caribbean island vacation would choose to come here. And as the island is celebrated as one of the World's most romantic destinations, St.Lucia naturally attracts a large number of honeymooners whether they are looking for a quaint plantation inn, an all-inclusive resort, a remote tropical hideaway or a St.Lucia luxury boutique hotel.
But once you stopped gazing at those amazing Pitons mountains and at each other, at least for a fleeting moment, we urge you to look under! Under the water, we mean !  St.Lucia has been blessed with so many beautiful natural attractions and our underwater world is certainly one of them. The majority of St.Lucia's coral reefs can be found in the south west of the island near Soufriere, but there also are a few good sites to dive under near Pigeon Island and Anse Cochon.
Even better, you don't need to be a certified scuba diver to get a glimpse of St.Lucia's amazing marine delights. There are several reefs that start right off shore and in shallow waters so that they can be explored with fins, a mask and snorkel only.
One of the best known St.Lucia snorkeling sites is the Anse Chastanet reef in the south west: Here, just 10 yards beyond the waters edge, the reefs remarkable ecosystem offers an amazing profusion of unusual tropical marine life starting in 5 feet of calm clear water. In these shallow areas be sure to keep your eyes open for peacock flounders, octopus, needle fish, parrot fish and turtles.
Or, if you are a certified scuba diver, drop down a little deeper on the Anse Chastanet reef, over dense coral growth to see puffers, moray eels, lobsters and even sea horses.  The Anse Chastanet Reef is indeed a unique dive site for all abilities and is especially good for macro photography.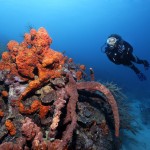 There are many other reefs to explore : Dive along dramatic walls beneath the majestic Piton Mountains, Superman's Flight, a drift dive in the shadow of the Petit Piton, Coral Gardens and Jalousie under the Gross Piton, Piton Wall, the wreck of the "Lesleen M", Anse La Raye and Anse Cochon. Equally spectacular are Fairyland, Turtle Reef, Grand Caille, Trou Diable and The Pinnacles.
Most of these dive sites are in the south west near Soufriere, with the exception of the wreck of the Lesleen M which is located near Anse Cochon. The 165 foot freighter was sunk in October 1986 as part of a project by the Department of Fisheries to provide artificial reefs. It is covered in soft coral, sponges and hydroids and provides an ideal habitat for many juvenile fishes. The wreck sits on an even keel on the sand. It is 30 feet to the deck and 65 feet at the deepest point. This site is an ideal introduction to wreck diving for the newly certified diver. Seasoned divers will also enjoy the prime condition of this wreck.
The creation of St.Lucia's Soufriere Marine Management Association(SMMA) in July 1992 has played an important part in maintaining the quality and beauty of St.Lucia's reefs to this date.
There are several good boat operators and diving schools on island that will take you snorkeling or scuba-diving. Most St.Lucia hotels have an affiliation with one of these companies.
If you are looking for a romantic hideaway resort in the most scenic part of the island with easy access to snorkeling and scuba diving, then Anse Chastanet Resort may very well be the perfect St.Lucia vacation choice for you :
Nestled amidst a 600 acre estate with two soft sand beaches bordering pristine coral reefs, ANSE CHASTANET is in complete harmony with its natural surroundings and right in the heart of the island's marine reserves. St. Lucia's World Heritage site, the twin Pitons mountains rising out of the calm Caribbean Sea make for a spectacularly scenic backdrop.
ANSE CHASTANET has been recognized by travel magazines such as Travel & Leisure and Conde Nast Traveler to be one of the Caribbean's Most Romantic resorts and is as popular with honeymooners as it is with scuba divers and those seeking a tranquil escape. The resort enjoys a unique hillside-beachside location with 49 individually designed rooms some of which are tucked away in a tropical garden at beach level while the rest are scattered about a flower decked hillside. And while the sensuous seclusion of the rooms provides some guests with the perfect excuse for lolling away the day on the balcony, others head out to partake in the many activities on offer; yoga, snorkeling, scuba diving, tennis, sunset sailing, sea kayaking or jungle biking on 12 miles of resort trails, hiking and bird-watching among the ruins of an 18th century colonial plantation.
Anse Chastanet's dive centre, SCUBA ST LUCIA, is situated on the beach just steps from the water and reefs. Perfectly set up for both beach and boat dives,
SCUBA ST.LUCIA  is a PADi 5* resort offering guests a full daily diving schedule including night diving, specialty programs, enriched air Nitrox; a well equipped scuba store; three compressors; rental dive gear and an underwater Photo and Video centre.
Anse Chastanet offers a variety of packages to suit every taste. Free night promotions are also available:
Honeymooners can take advantage of the all-inclusive Total Romance Package which includes a scuba beginner's course or two dives per person if you are certified, among many other things.
The Amazing Adventure package includes a variety of resort based activities and island adventure excursions. St.Lucia travelers looking for a scuba diving package can book the Coral Kaleidoscope package or the Dive Deal package.
To find out more about St.Lucia's Anse Chastanet Resort and Scuba St.Lucia visit their websites at http://www.ansechastanet.com and http://www.scubastlucia.com
You can email the resort via ansechastanet@ansechastanet.com or call 1-800-223-1108.
Visit Anse Chastanet and Scuba St.Lucia on Facebook or follow Anse Chastanet on Twitter.
There are direct flights to St. Lucia (or Saint Lucia as it the official version of the island name), from various cities. American Airlines offers non-stop direct flights daily from Miami, Jet Blue flies non stop from New York's JFK airport (daily this summer!) and Delta flies out of Atlanta several times weekly. From Toronto, try Air Canada and Westjet. From London, Saint Lucia enjoys direct flights with Virgin Atlantic and British Airways.