Strong summer 2020 promotions now continue into 2021
Jade Mountain, one of the Caribbean's most iconic luxury boutique resorts famous for its three-walled sanctuaries and spectacular views of the Pitons, re-opened on July 24.
In line with Saint Lucia's re-opening protocols, Jade Mountain, together with sister property Anse Chastanet, underwent a government mandated licensing process leading to Covid-19 certification.  The certification process entailed the implementation of enhanced health and sanitization procedures and team member training.
"We will keep the experience from arrival to departure as touch-less as possible and guests will be able to determine the level of service and interaction you wish to enjoy," said Karolin Troubetzkoy, the resorts' Executive Director and co-owner.
Guests looking to get away this summer and early fall can take advantage of several promotions: The Suite All Inclusive Sky Sale offers up to 30% off on basis of the accommodation in the sky suite category, including all meals and beverages. Daily all incl. rates per couple start at US 1,130.50, subject to 10% service charge and 10% VAT. This promotion is now also available for 2021 travel.
The Summer Sanctuary promotion offers every 4th and 7th night free in the sky suites as well as the star and moon infinity pool sanctuaries. This promotion is available on accommodation only, or combined with a half-board or all-incl plan. Free nights will include free meal plan if pre -booked. The daily rates per couple in the Sky, Star, Moon categories respectively are:  US $1,225 / $1,695 / $2,050 from July 15 – October 15, 2020 and now also 2021. Add US 220 per couple per day for half-board or  US 390 for the all-incl plan.All above rates – rooms and meals – are subject to 10% tax and 10% service.
The Take 5 promotion covers late fall 2020 and 2021 dates with a 5th night free in in the sky suites as well as the star and moon infinity pool sanctuaries. There also is the Take 5 Total Romance package which not only includes accommodation and meals and beverages but also airport transfers and a variety of resort activities and services. 7 for 5 weekly Total Romance package starts at US 10,640 in a Sky suite
Set high above its sister resort Anse Chastanet, Jade Mountain offers breathtaking views of St.Lucia 's Unesco World Heritage site, the Pitons and the surrounding Caribbean Sea.
The resort has been designed by its Canadian architect owner, Nick Troubetzkoy, who wanted his guests to be in perfect harmony with their surroundings. He created open-walled, open plan suites, called sanctuaries, all of which face the Pitons so that guests can enjoy the view from wherever they are, from their bed, their living area and even the bathroom. 24 of the 29 sanctuaries have private, heated infinity pools which are up to 950 square feet in size, allowing guests to not only plunge but actually swim laps in the privacy of their suites.
The resort butlers, called Major Domos, provide attentive, unobtrusive service. Guests who venture out of their sanctuary can explore the resorts' 600 estate with 2 beaches, go hiking or biking, snorkeling or scuba diving or relax with a yoga class or spa treatment. The resorts operate their own organic farm and even make their own chocolate.  Guests can partake in cooking or chocolate making classes. Dining options include fresh produce from the farm, with many vegan and vegetarian dishes on offer daily. In addition to the Jade Mountain Club, guests can also dine at the Anse Chastanet restaurants or plan a private beach dinner.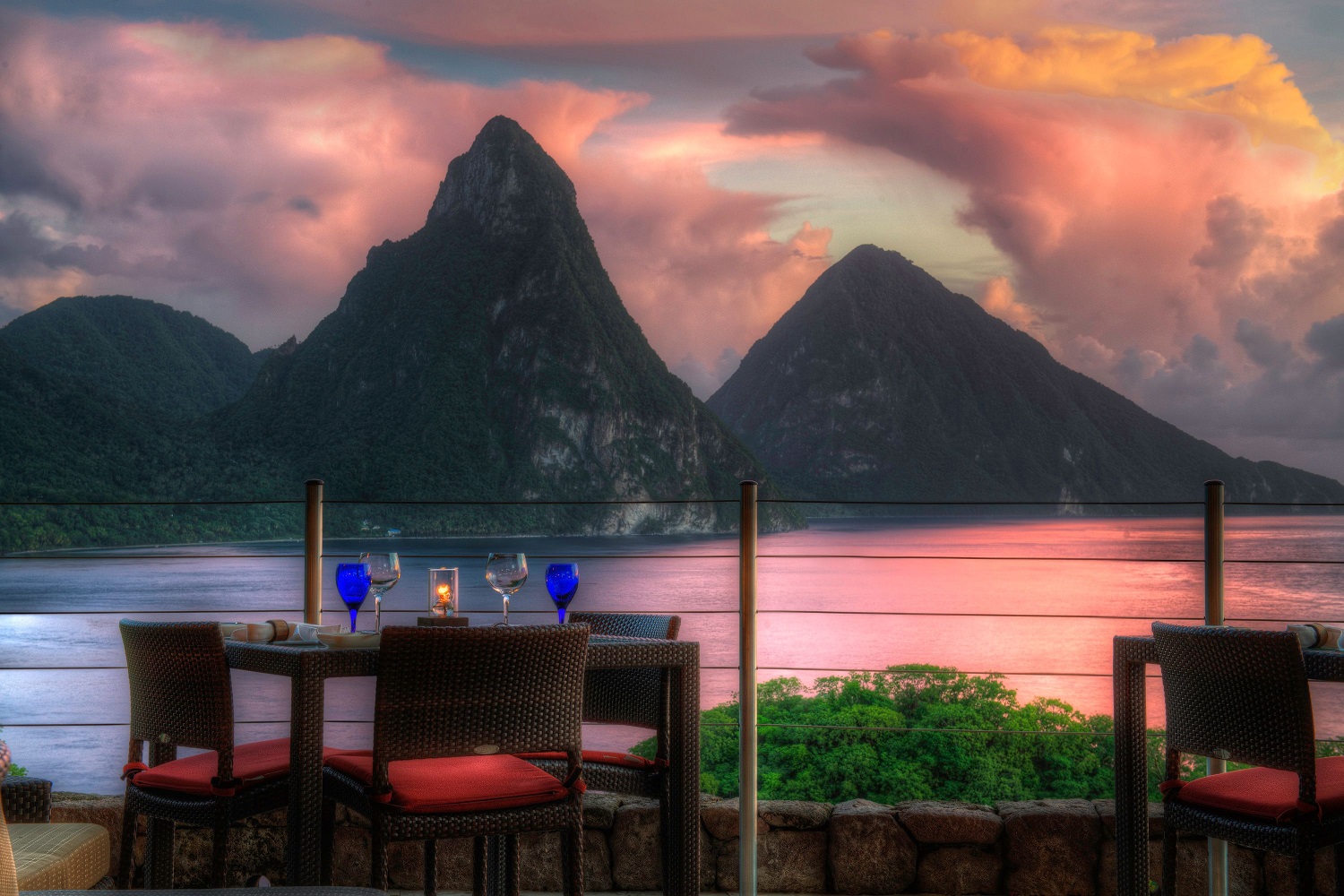 Guests wishing to visit or currently booked to visit Saint Lucia should please review the Saint Lucia entry requirements here: https://www.stlucia.org/en/covid-19/ and also view the pre-arrival visitor registration form: https://www.stlucia.org/en/covid-19/pre-arrival-form-for-visitors/
For more information, visit www.jademountain.com, contact the resort via jademountain@jademountain.com or call 1-800-223-1108.
View the electronic brochure: https://jademountain.com/ebrochure.html