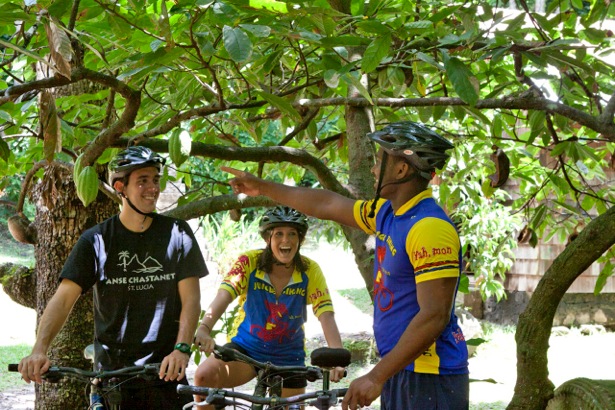 One of the most exhilarating Saint Lucia day excursions is the Jungle Biking Adventure offered by Bike St.Lucia, the bike facility which is part of Anse Chastanet Resort located near Soufriere.
Bike St. Lucia's home is the Anse Mamin Plantation which is part of Anse Chastanet's 600 acre estate. Amidst an abundance of tropical vegetation and historical remains dating back to the plantation's 18th century beginnings, 8 miles of bike trails were carefully implemented to create a unique adventure location while at the same time preserving the plantation's natural beauty and cultural heritage.
Bike St. Lucia's custom trails were designed to accommodate both the first time and experienced riders on Cannondale suspension bikes. There is a skill course training area adjacent to the 5,000 square foot Bike St. Lucia's facility where riders can learn or brush up on off-road riding skills. In less than an hour, you will notice your skill and comfort levels increase dramatically, not to mention the enjoyment level on the trails.
For those wanting a more challenging ride, there are intermediate level single-track trails. They are designed with the idea of a roller coaster ride in mind with lots of turns, ups and downs while cruising (or perhaps, on occasion, careening) among dense, lush vegetation on the specially made tracks.
For those who practically live on a bike and have great lungs and legs, Bike St. Lucia  created Tinker's Trail. This challenging ride was designed with the help of world champion Tinker Juarez, of the Volvo-Cannondale racing team. You will find that its steep uphills and tight switchbacks make it truly an advanced expert-level trail. At the top, you can proclaim your reward by ringing Tinker's Bell. And, of course, take in one of the most spectacular views imaginable. Don't forget your camera! Tinker describes the Tinker Trail downhill ride as a "really sweet ride."
For most, it will be a heart thumping adrenalin rush all the way down. About midway, there are two back to back long steep downhill portions with a slightly banked turn leading the rider from one to the other on a wild ride. Just don't miss the turn!
So, whatever your riding experience, Bike St. Lucia's JUNGLE BIKING ADVENTURE has trails to match your ability. Guests staying at Anse Chastanet or at the sister property Jade Mountain have easy access to Bike St.Lucia throughout their stay.
From Anse Chastanet beach, guests can walk to the bike centre along the coastline to Anse Mamin beach or they can take the resort watertaxi aptly named " Jungle Express".
Jungle Biking adventures are offered Mon- Fri at 9 a.m., 10 a.m. and 1.30 p.m. On Saturdays and Sundays, rides are offered at 9 a.m. and 10.30 a.m. Rates start at US 45 per person, plus a 10% service charge.
Guests staying elsewhere in Soufriere or in the south can book a jungle biking adventure by calling Anse Chastanet at Tel 758 459 7977 or 758 469 6100 or alternatively email bikestlucia@candw.lc
Guests staying in the North of Saint Lucia  are able to book a St.Lucia day excursion package including boat return transportation and lunch at the Jungle Grill on Anse Mamin beach via junglereef@candw.lc, please visit http://www.junglereefadventures.com for more information.
For visitors still looking for accommodation, please consider Anse Chastanet.
Anse Chastanet has been consistently recognized as one of the Top 25 Caribbean Resorts by leading travel magazines such as Condé Nast Traveler and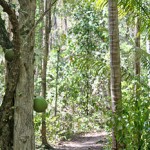 Travel&Leisure magazine. Choose from rooms tucked away at beach level and panoramic hillside gazebos. Enjoy fine dining options in 3 different locations plus an entirely vegetarian restaurant using produce from the resorts' organic farm Emerald's. In addition to jungle biking, Anse Chastanet's resort activities include yoga, daily escorted walking or hiking tours, watersports with an excellent snorkeling and scuba diving centre Scuba St.Lucia. At the Anse Chastanet resort spa, a wide range of treatments are available including aromatherapy, ayurveda and couples treatments. There are three boutiques and an art gallery. The Anse Chastanet resort concierge is available at all times to recommend and book island excursions.
For avid bikers, Anse Chastanet Resort offers an Jungle Biking Escape: Enjoy a 6TH NIGHT FREE in Anse Chastanet's Standard, Superior, Beachside Deluxe room categories plus all the jungle biking you want to do in the Anse Mamin estate. The 2012 daily rates per couple in room categories Standard, Superior and Beachside Deluxe respectively are: US $330 / $420 / $525 (June 1- Oct 31) and US $385 / $475 / $615 (Nov 1 – Dec 19) To add MAP plan (breakfast and dinner), please add US $160 per couple daily. You can also add an all-inclusive meals and drinks package to your room rate. This would be US$ 310 per couple daily. All above rates – rooms and meals – are subject to 8% tax and 10% service.
To book, call 1-800-223-1108 or send a reservation request via this link