One of the world's top resorts, St. Lucia's Jade Mountain, recently took a taste of the Caribbean to New York to help celebrate the birthday of a leading global fine food institution.
The James Beard Foundation, synonymous with high quality food, celebrated its 25th anniversary of promoting the culinary arts in New York City.
This year the Foundation celebrated "Jade Cuisine" from Jade Mountain at the historic James Beard House in New York City's Greenwich Village – a live "performance space" for visiting chefs.
James Beard award-winning Chef Allen Susser,  THE consulting chef at Jade Mountain, and the resort's executive chef Jonathan Dearden, created a dinner from paradise under the theme "25 Years of Food at its Best."
The Foundation's silver anniversary and mission honors James Beard's legacy of celebrating, nurturing, and preserving America's diverse culinary heritage.
In recognition of James Beard's influence on the culinary world, the Foundation invited the talented Jade Mountain culinary combination to New York City to share their unique culinary style. The Foundation honors only the best and brightest talents in the industry.
"We take great pride in what we are cooking at Jade Mountain," said Chef Allen Susser, while Chef Johnathan Dearden, described the experience as a "dream come true".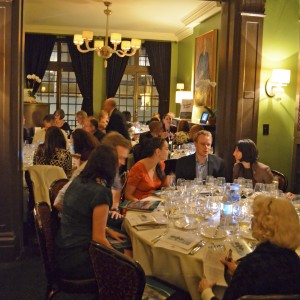 The menu included a sampling of Jade Mountain's dinner offerings, including Crushed Peppercorn and Lime Seared Foie Gras (with cashews, mango, green figs, and bacon); Cocoa Butter Roasted Wild Shrimp (with spinach callaloo and passion fruit–nutmeg air); House made Orange Bitters Braised Cobia with ground provisions, wild mushrooms, and coconut curry.
Named after Jade Mountain's owner,Nick Troubetzkoy's, Emerald Estate Organic Chocolate Handmade Cacao Plantation Trio with bittersweet chocolate fondant, St. Lucian chocolate and vanilla tea, and frozen chocolate bananas foster, rounded out the exquisite offering.
About Jade Mountain
Jade Mountain, regularly recognized as one of the world's leading hotels, and a top Caribbean resort, soars above the sea in full view of the majestic Pitons in St. Lucia. Its stunning architecture created by owner Nick Troubetzkoy features spectacular, spacious, suites with infinity pools and the missing fourth wall. The owners, aware of the delicate environment, preserve and farm the resort's surrounding plantations producing fresh regional produce, including limes, mangos, avocado, coriander, coconut and chutney. With the creativity of its Chefs Allen Susser and Jonathan Dearden, a unique mixture of tastes results in a modern new world Caribbean cuisine, including fresh local seafood along with organic and locally grown fruits, vegetables and herbs. For more information, visit www.jademountain.com or call 1-800-223-1108
ALLEN SUSSER
Allen Susser is a winner of the prestigious James Beard Award. His personal culinary viewpoint has been established since 1986 upon opening in Miami Chef Allen's as chef/owner of this groundbreaking restaurant. The New York Times called Allen the "Ponce De Leon of New Florida cooking". Food & Wine magazine named Chef Allen "One of the Best 10 Chefs in America". In 2008, he was named consulting chef for Jade Mountain Resort in St Lucia. Allen Susser is currently the spokesman for the National Mango Board and is a Culinary Ambassador for the Monterey Bay Aquarium for its sustainable seafood watch. He received an honorary Doctorate of Culinary Arts from Johnson and Wales University. He is the original author of New World Cuisine and Cookery.
(Doubleday, 1995), The Great Citrus Book (Ten Speed Press, 1997) and The Great Mango Book, (Ten Speed Press , 2001).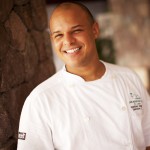 JONATHAN DEARDEN
The Jade Mountain Club culinary team is led by Executive Chef Jonathan Dearden. Born in 1985 in Washington D.C. he graduated with a Bachelor's Degree from the Art Institute of Fort Lauderdale. At the age of 22, under the consultancy of James Beard Award winner Chef Allen Susser, Jonathan was selected to be the Executive Chef at Jade Mountain. Jonathan's cooking style is described as modern "Ameri-bean" Cuisine with a focus exclusively on locally farmed ingredients, classical French kitchen discipline and sophisticated cooking techniques.
About the James Beard Foundation
The James Beard Foundation is at the center of America's culinary community, dedicated to exploring the way food enriches lives. A cookbook author and teacher, James Beard was a champion of American cuisine who helped educate and mentor generations of professional chefs and food enthusiasts. Today the Beard Foundation continues in the same spirit by offering a variety of events and programs designed to educate, inspire, entertain, and foster a deeper understanding of culinary culture. These programs include educational initiatives, food industry awards, an annual national food conference, Leadership Awards program, culinary scholarships, and publications. In addition to maintaining the historic James Beard House in New York City's Greenwich Village as a "performance space" for visiting chefs, the Foundation has created a robust online community, and hosts conferences, tastings, lectures, workshops, and food-related art exhibits in New York City and around the country. For more information, visit www.jamesbeard.org.