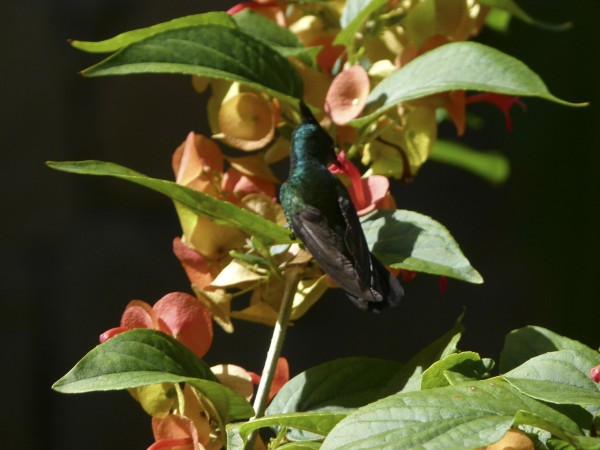 Travelers to Saint Lucia may be aware of the island's stunning scenic beauty and reputation as one of the best Caribbean honeymoon destinations, but very few know about the excellent birdwatching opportunities on the island. This is changing rapidly.
Birding is becoming a very popular activity in Saint Lucia. The island offers a wide array of habitats ideal for birds and their different feeding and breeding habits: dry coastal areas, lush rain forests, scrub forests, rugged sea cliffs.
According to the popular birding website http://www.fatbirder.com, there are 139 bird species in Saint Lucia, out of which 4 are endemic to the island: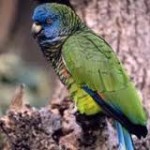 St. Lucia Parrot Amazona versicolor ( the National Bird of Saint Lucia)
St. Lucia Oriole Icterus laudabilis
St. Lucia Warbler Dendroica delicata
St Lucia Black Finch Melanospiza richardsoni
Other websites also mention the St.Lucia Peewee and Semper's Warbler (which is critically endangered or possibly extinct) as additional endemic species. Other birds common in Saint Lucia are the Red-billed Tropicbird, White-tailed Tropicbird, Brown Booby, Magnificent Frigatebird, Little Blue Heron, Snowy Egret, Cattle Egret, Green Heron, Yellow-crowned Night-Heron, Blue-winged Teal, Broad-winged Hawk, American Kestrel and Sora, to name just a few.
If you like to find out more about the Birds of St.Lucia and/ or the Birds of the West Indies, consider buying A Guide to the Birds of the West Indies and for Saint Lucia specifically, The Birds of St Lucia by Allan R Keith, ISBN: 0907446191.
St.Lucia artist Christopher Cox captures local birdlife wonderfully. His paintings can be viewed on his website.
Visitors interested in birdwatching will find that all St.Lucia hotels will be able to arrange birdwatching excursions, often in conjunction with the St.Lucia Forestry Department. There are birdwatching locations all over the island. Some noted areas include the Bois D'Orange Swamp, Boriel's Pond as well as the Fregate and Maria Islands on the East Coast. In addition, there are birdwatching locations around the general Pitons area and Quilesse Forest Reserve.
In the south, the areas around Anse Chastanet and Anse Mamin offer excellent birdwatching opportunities. Anse Chastanet Resort is set amidst its own 600 acre estate including the old Colonial plantation of Anse Mamin which is accessible to resort resident guests daily, either alone or accompanied by the resort estate guides who have been trained to spot and identify birds.
At Anse Chastanet, four of the endemic species can be found within the grounds of the resort with the fifth located not too far away. Firstly there is the St Lucia Pewee – a delightful small flycatcher; green on top and orange underneath which sallies out from its favored perch in search of prey before returning to the same branch. These can be found both along the entrance track to the resort and also in the estate at Anse Mamin. Next, the St Lucia Warbler, both brightly colored and inquisitive; blue-gray above with bright yellow under-parts and black facial markings, it is widespread throughout the grounds.
Not quite as numerous, but both dramatic and boldly colored is the yellow and black St Lucia Oriole. Back in 1987, there were considered to be less than 60 pairs in existence, however there has been a considerable recovery since and probably two different pairs can be found at Anse Mamin.
At Anse Chastanet Resort, birdwatching opportunities are available at all times, whether on the resort grounds or through an organized island excursion. Once a year, Anse Chastanet hosts special birdwatching weeks :
Guests staying at Anse Chastanet between Sept 1-15  have the opportunity to partake in special birdwatching events hosted by Martyn Kenefick, a Caribbean based ornithologist and bird book author. A specialist program has been created for avid bird watchers from Sept 1- 15.
Martyn Kenefick is "an English "ex pat" who has lived in Trinidad for the last 10 years since taking early retirement from the Financial Services industry in the UK. Having been an active "birder" since the early 70's his hobby has taken him privately from China and Thailand to Alaska and Antarctica. He is a freelance ornithologist and bird watching guide / tour leader and in recent years has led organized tours to Kazakhstan, Kenya, The Gambia and California; whilst in his adopted home, he regularly leads tours for British, American and Australian bird watching tour operators. He is the primary author of the recently published Field Guide to the Birds of Trinidad & Tobago and also the Hon Sec of the Trinidad & Tobago Rare Birds Committee."
The specialist program includes one full day and two half day island excursions to birdwatching sites off the resort property, one half day whale watching trip, in addition to which Mr Kenefick will personally guide 2-3 hours birdwatching estate tours and hold daily talks about the birdwatching (Mon – Fri).
The specialist program can be added to any reservation of 7 nights or more at Anse Chastanet. The program will run Mon – Fri. The full event package is offered at US 450 per person. To sign up for the program please contact Anse Chastanet Resort via adventure@ansechastanet.com To make an actual hotel reservation in addition to the program, Anse Chastanet Resort can be booked directly via email, local tel 758 459 6100, toll free 1-800- 223 1108. From the UK, call 0800-894-057. Anse Chastanet can be booked through a variety of tour operators in the UK, for example MotMot and Naturetrek, both specialized in birdwatching tours.