Time to Get Up…
St. Lucia's Anse Chastanet and Jade Mountain Begin Paddleboard Yoga
Serenity, strength and fun are the goals at these intimate water classes
Soufriere, St. Lucia, February, 2018 … Jade Mountain and Anse Chastanet, two stunning sister resorts on Saint Lucia's south-west coastline, have recently added paddleboard yoga to their lengthy roster of activities. This class is just one example of how the resorts reflect a new mission of the Caribbean Tourism Organization (CTO), which has declared 2018 the Year of Wellness and Rejuvenation for the region.
Paddleboard yoga is led in the sea by experienced instructor Laura Kai Timmusk, who studied with direct disciples of legendary teachers Pattabhi Jois and B.K.S. Iyengar. Students move through traditional asanas (poses) while balancing on their boards. Timmusk, who is also a physical therapist, describes her class as Vinyasa-style, with a focus on alignment, breath work and mental clarity. The added challenge of staying out of the water forces the stabilizing muscles to engage even more deeply, which helps build core strength, stamina and endurance. "This is the most serene setting you can imagine for yoga," says Timmusk, adding, "Moving on the water adds a whole new dimension to the practice, because you have no choice but to be present and focused. Your mind has no desire to wander off and worry about the past or future, and you can let go of your expectations and judgments." Of course, if you do lose your balance, splashing into the gorgeous Caribbean sea certainly beats the hardwood floor of your local yoga studio.
45-minute group classes (offered on Wednesday mornings at 11 a.m.) cost $35 person; private classes are available by appointment and cost $100 per person or $140 per couple. Those who want to learn more about stand-up paddleboarding (often called SUP) can also attend a free weekly demonstration, which is held every Tuesday at 12:15 p.m.
In addition to paddle board yoga guests are able to partake in complimentary land based yoga classes for beginners and advanced practitioners at sunrise and sunset and also, book private yoga classes with the resorts' two resident yoga instructors. The resorts' two spas offer both classic and ayurvedic spa treatments. Specialty week long seminars are planned later this year.
---
ABOUT JADE MOUNTAIN & ANSE CHASTANET
Anse Chastanet and Jade Mountain share a lush, impossibly scenic 600-acre estate with the Gros and Petit Pitons as the backdrop, 2,500-foot twin volcanoes that have come to symbolize St. Lucia and are a UNESCO World Heritage Site. The properties also encompasses two sandy beaches that border coral reefs; the organic Emerald Estate Farm, where much of the restaurants' produce is grown; and the historical former plantation site of Anse Mamin, popular for birdwatching, hiking  and jungle biking on private resort trails.
Jade Mountain, is the intimate and luxurious resort at the upper half of the estate. The hotel is architect and founder Nick Troubetzkoy's fitting tribute to St. Lucia's dazzling beauty. It's known for its incredible panoramas, generously sized infinity pools and details like carefully handcrafted furnishings sourced from local materials. Troubetzkoy's uncompromising architectural vision also helped bring to life details like dramatically suspended bridge walkways (instead of hallways) and open layout within the rooms.   Each suite, called a "sanctuary," is missing a fourth wall to better show off the spectacular Piton and sea views.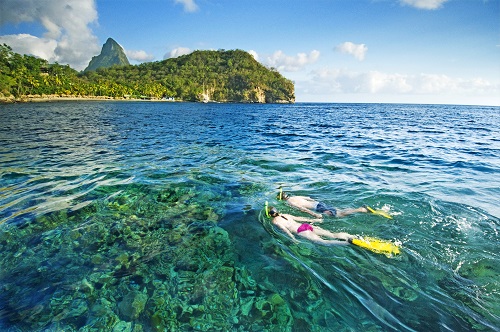 Anse Chastanet Resort is on the lower part of the property facing two beaches which 10Best readers selected as the Best Caribbean Beach in 2017.  The crystal clear watersare part of a reserve protecting an expansive coral reef teeming with tropical fish. The environmentally friendly, award-winning resort comprises 49 individually designed rooms, 37 of which are scattered about a lush hillside, and 12 that are nestled within a tropical garden at beach level. Innovative menus – one of which is entirely vegetarian – are offered in four different locations and feature fresh produce served up from the resort's organic farm. Guests can partake in interactive chocolate-making classes in the resort's chocolate laboratory and a variety of watersports are also offered.
For more information on ANSE CHASTANET and JADE MOUNTAIN at 1- 800-223-1108 Tel 758-459-7000, Fax 758-459-7700 or contact e-mail ansechastanet@ansechastanet.com and jademountain@ansechastanet.com websites: www.ansechastanet.com and www.jademountain.com
In addition to several T+L 500 and World's Best Awards, both resorts have received numerous other accolades. These include the Conde Nast Traveler Readers' Choice Awards and Gold List, American Express Travel's Top 25 List and BRIDES magazine's rundown, "The 10 Best Honeymoon Resorts in the Caribbean." Jade Mountain was also included in the National Geographic Society's full-color book, The World's Most Romantic Destinations, as the recommended hotel for St. Lucia. Jade Mountain Club and Anse Chastanet have earned three Readers' Choice awards from 10Best, one of USA Today's travel web sites. Most recently, Anse Chastanet was named one of U.S. News & World Report's 50 Bucket List Family Adventure Trips.