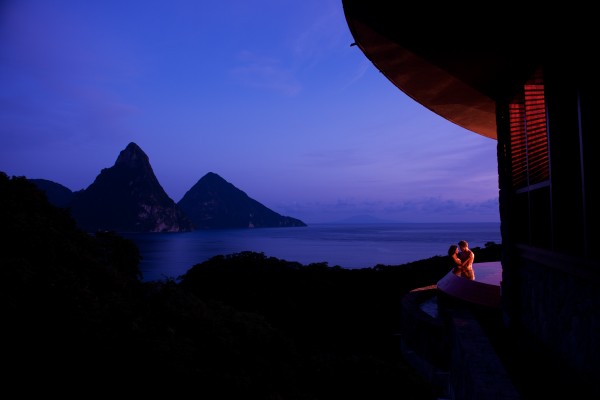 So, how many websites have you been visiting lately in search of your perfect honeymoon location ? And even though you may have found  a picture of your dream suite on line, are you now worried that what you see online is not what you will get ? We got news for you ! At Jade Mountain St.Lucia, what you see on line is most definitely what you will get and more. All of Jade Mountain has been designed to take full advantage of the amazing views of St.Lucia's stunning Piton mountains. And, it only takes one glance at Jade Mountain's website to realize that the entire resort has been created for the celebration of love, life and the universe. It should therefore not come as a surprise that Jade Mountain is one of the Caribbean's, if not the World's, top honeymoon destinations.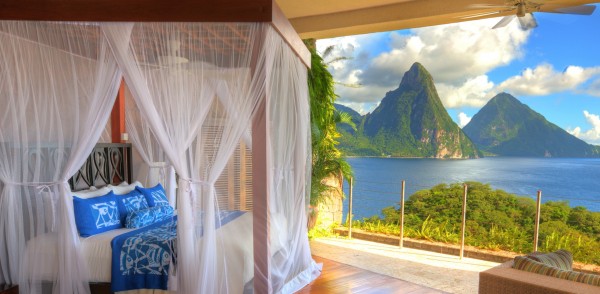 More art sculpture than hotel structure, Jade Mountain has been called the 8th Wonder of the World. Absolutely all of the 24 infinity pool sanctuaries at Jade Mountain feature spectacular views of the Pitons and the Caribbean Sea. The sanctuaries are each individually designed and each sanctuary and pool are uniquely different in layout and shape. With the 24 pools appearing to be suspended in the air, staying at Jade Mountain feels like floating on a cloud.
Each bathroom has a rain shower and a large whirlpool tub for two on a raised dais overlooking the sanctuary, the pool and the view. The whirlpools are all equipped with strategically placed point-massage jets and each tub is also equipped with the very latest in 'chroma-therapy' – based on the theory that colors affect biorhythms and life equilibrium.
The suite categories have been created to reflect the square footage of the sanctuaries, size of pool and the scope of the view. STAR, MOON, SUN and GALAXY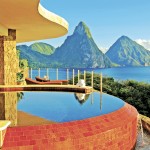 The private infinity pools range from 450 to over 900 sq. feet – their sizes increase in relation to the different square footage of the  different suite categories. All pools feature shallow water lounging areas in addition to a large swimming area. They are illuminated at night with fiber optic lights the color of which the guests can personally control.
Each of the infinity pools has its own individually designed glass tile color scheme which is then carried onto the individual bathrooms, giving each sanctuary its own unique – and rather bold – personality. The glass tile texture is complex in reflective and prismatic ways with each piece of tile unique due to their custom hand crafted fabrication.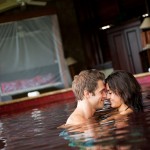 Even though Jade Mountain is not an all-inclusive property, the resort has designed an all-inclusive package called Total Romance especially for their honeymooners. Throughout 2012, honeymooners can enjoy a 7th night free on basis of this all inclusive "Total Romance" package. And honeymooners traveling between July 15 – October 15, 2012 can enjoy up to two nights free of charge in selected categories on basis of the Total Romance package.
Only a few rooms per room type were assigned to these free night promotions – therefore, the resort suggests you book as early as possible to ensure that the room type of your choice will be available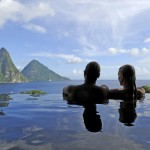 At  Jade Mountain, the Total Romance Packages with 7th night free are: US 11,550 / 14,028/ 15,798 / 18,276/ 20,754 from Jan 5 – Apr 15, 2012; US 10,488 / 12,612 / 14,382 / 16,860 / 18,984 from Apr 16 – May 31, 2012; US 9,780 / 11,904/ 13,674 / 15,444 / 17,568 from Jun 1 – Oct 31, 2012; US 10,488 / 12,612 / 14,382 / 16,860 / 18,984 from Nov 1 – Dec 19, 2012 in the 5 Sky jacuzzi suites or in the 24 Star, Moon, Sun and Galaxy pool sanctuaries respectively.
Honeymooners traveling between July 15 – Oct 15, 2012 are currently able to receive 2 nights free if staying a minimum 7 nights.
A 7 night on basis of this special summer promotion Total Romance package (7 for 5) is priced at US 8270 in Sky, US 10040 in Star and US 11515 in Moon.
Also: Honeymooner who can only spend a total of 5 nights are able to receive the 5th night free in sky, star and  moon categories: A 5 night stay on basis of the Total Romance package (5 for 4) is priced at US 6760 in Sky, US 8176 in Star and US 9356 in Moon.
The Total Romance Package includes: Accommodation for number of nights in category chosen, all tax and service, airport transfers both ways, breakfast, lunch, afternoon tea and dinner, all drinks including wines offered by the glass (but not champagne), welcome cocktail, tour of Volcano, Sulphur Springs and Diamond Mineral Baths, guided tour of old French Colonial Plantation of Anse Mamin, drinks package in room fridge, basket of local fruit, use of tennis court and equipment, snorkeling, kayaking, mini-sailing, windsurfing, use of beach chairs and beach towels, a guided boat snorkel trip, a resort scuba diving course for beginners or 2 dives for certified divers, bottle of French champagne, one hour Swedish Massage, 1/2 day Jungle Biking in Anse Mamin Valley, 2 resort t-shirts, half day sailing on skippered resort yacht Serenity, an anniversary certificate of US 500 to be used on a return visit. (Unused features are not refundable).
For more information, please visit www.jademountain.com and also view all Resort Promotions  or call 1-800-223-1108.
Become a Jade Mountain Facebook Fan  and follow Jade Mountain on Twitter