…
Soufriere, St Lucia Dec 29:  Guests at Soufriere's Anse Chastanet and Jade Mountain were in for a special treat over the Christmas Holidays.
Not only did they get to enjoy a wide range of local entertainment, they were also invited to enjoy a gripping performance of Edgar Allan Poe's  The Tell Tale Heart by famous British actor, playwright and theatre director Steven Berkoff. 
Berkoff and his partner Clara Fischer are regular guests at Anse Chastanet and good friends with resort owners Nick and Karolin Troubetzkoy. They love Saint Lucia and try to visit at least once a year.  The performance of The Tell Tale Heart signals the beginning of a more extensive creative collaboration between the resorts and Berkoff.  A poetry and writers' workshop is being discussed to take place in the near future. 
"We are very excited about this new collaboration", says Karolin Troubetzkoy. "Our guests clearly look for more than sun, sand and sea. We have been discussing possible projects with Steven for some time and finally, this year, we decided to plunge right in without much ado  by putting on The Tell Tale Heart.  It was a test for us as well as Steven to see how the surroundings and audience setting would work out. It was fascinating to watch such an amazing actor so close up and the guest reaction was extremely positive. Steven himself found the closeness to the audience an interesting new and stimulating experience." 
Berkoff's only regret so far has been that he has never met St. Lucia's Nobel Laureate for Literature, Derek Walcott and he hopes that such a meeting will eventually take place when he next visits. 
Berkoff's plays and adaptations have been performed in many countries and in many languages. Among the many adaptations Berkoff has created for the stage, directed and toured, are Kafka's Metamorphosis and The Trial, Agamemnon after Aeschylus, and Poe's The Fall of the House of Usher. He has directed and toured productions of Shakespeare's Coriolanus also playing the title role, Richard II, Hamlet and Macbeth, as well as Oscar Wilde's Salome.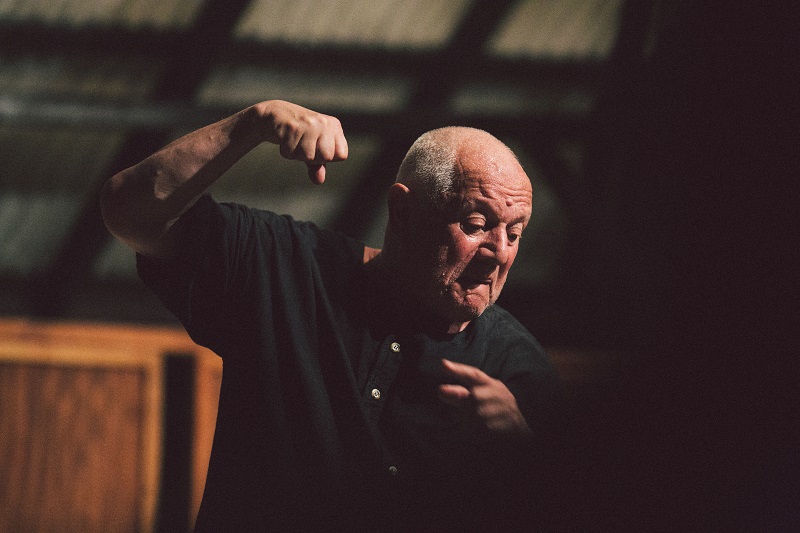 Berkoff's original stage plays include East, West, Messiah: Scenes from a Crucifixion, The Secret Love Life of Ophelia, Decadence, Harry's Christmas, Massage, Acapulco and Brighton Beach Scumbags. He has performed his trilogy of solo shows, One Man, Shakespeare's Villains and Requiem for Ground Zero, in venues all over the world.
Berkoff  has acted in A Clockwork Orange, Barry Lyndon, Octopussy, Beverly Hills Cop, Rambo, Under the Cherry Moon, Absolute Beginners and The Krays. He directed and co- starred with Joan Collins in the film version of his play Decadence.  Berkoff appeared in the 2010 British gangster film The Big I Am as "The MC", and in the same year portrayed the antagonist in The Tourist with Johnny Depp and Angelina Jolie. Berkoff portrayed the attorney Dirch Frode in David Fincher's 2011 adaptation of The Girl with the Dragon Tattoo. Another 2011 credit is the independent film, Moving Target. He also stars in Katherine of Alexandria (2014) playing the role of Liberius.  On television, he was recently seen in The Borgias.
Berkoff also has published a variety of books on the theatre such as the production journals I am Hamlet, Meditations on Metamorphosis and Coriolanus in Deutschland.  Berkoff's work has led him to traverse the globe, and his love for travel is apparent in his book Shopping in the Santa Monica Mall: The Journals of a Strolling Player.
For more information about ANSE CHASTANET and JADE MOUNTAIN , visit www.ansechastanet.com  and www.jademountain.com or call Tel 1-800-223-1108 
For more information about Steven Berkoff., visit http://www.stevenberkoff.com 
HIGH RES IMAGES :
https://www.dropbox.com/sh/iqn07akr24wps2u/AACzaj1RjTYouzvJFTDq39gXa?dl=0 
Photocredit : Stephanie Brauer