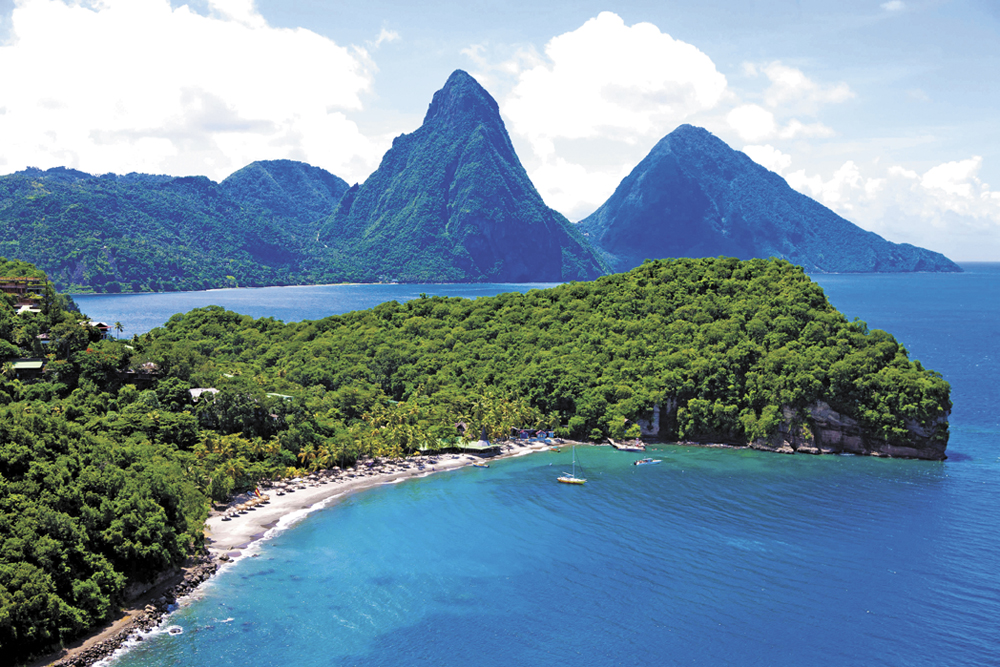 If you are in search of a Caribbean resort hideaway for your next beach vacation,  have a look at Anse Chastanet Resort on St. Lucia's quiet southwestern coast where two magical peaks, the Pitons, leap from the sea and the mountains are covered with luminous greenery. Whether you are looking for a tranquil escape, a romantic getaway or a soft adventure spot, Anse Chastanet may just be the right resort choice for you.
Anse Chastanet's architect owner Nick Troubetzkoy believes passionately in nature. So he created a hotel that makes the foliage and the flowers, the perfumes and the peaks, the sea and the bird song an integral part of your vacation experience.
The Anse Chastanet estate encompasses 600 lush tropical acres bordering two soft sand beaches. Not only do you get a World Heritage Site anchored by the twin peaks on land, the resort's two crystal-clear bays are part of a designated marine reserve protecting miles of colorful coral reefs teeming with tropical fish.
Anse Chastanet was instrumental in attracting scuba divers to Saint Lucia, by creating the first professional scuba operation on island, Scuba St.Lucia. Scuba St.Lucia became the catalyst in creating marine awareness on island which eventually led to the creation of the Soufriere Marine Management Authority  (SMMA) responsible for the preservation of St.Lucia's underwater world. The majority of these reefs can be found directly at and within a 15 minute radius of Anse Chastanet Resort.
With such a unique setting as his canvas, Nick Troubetzkoy was inspired to design a one-of-a-kind resort.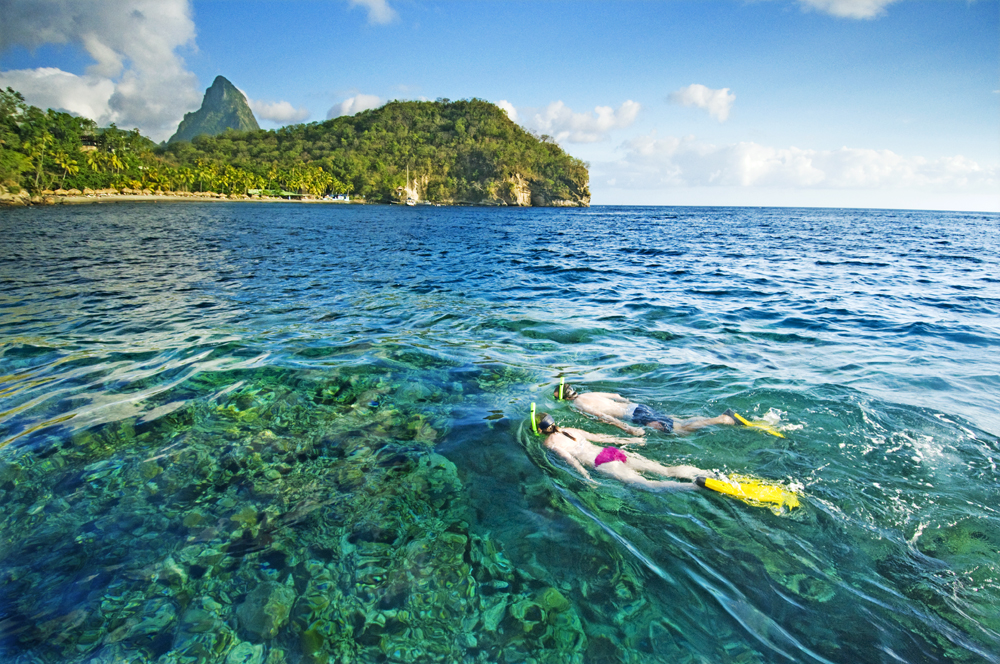 A dozen rooms are tucked in behind the coconut palms that line the beach and the remainder tiptoe up a flower decked hillside. To make the most of the panoramic views and the refreshing tradewinds octagonal whitewashed cottages come with wraparound flower draped balconies and louvered windows.
Extra-large deluxe and premium suites underscore the visionary, innovative, sometimes whimsical side of Nick Troubetzkoy: in one suite, the balcony is built around a full-grown red gommier tree; in another a flamboyant tree drapes its red blossoms around the balcony. Some have their 4th wall open entirely to the vistas, yet are completely private.
Anse Chastanet's ever growing art collection provides a visual feast of its own. Over the past 25 years, both local and international artists have been engaged to produce unique works of art inspired by the scenic location. There are impressive wooden sculptures and plaques, earthy burlap compositions, painted "sky ceilings" and vibrant acrylic paintings invoking memories of Matisse and Picasso.
And while the sensuous seclusion of the rooms provides some guests with the perfect excuse for lolling away the day on the balcony, others head out to partake in the many activities on offer; yoga, snorkeling, scuba diving, tennis, sunset sailing, sea kayaking or jungle biking, hiking and bird-watching among the ruins of an 18th century colonial plantation.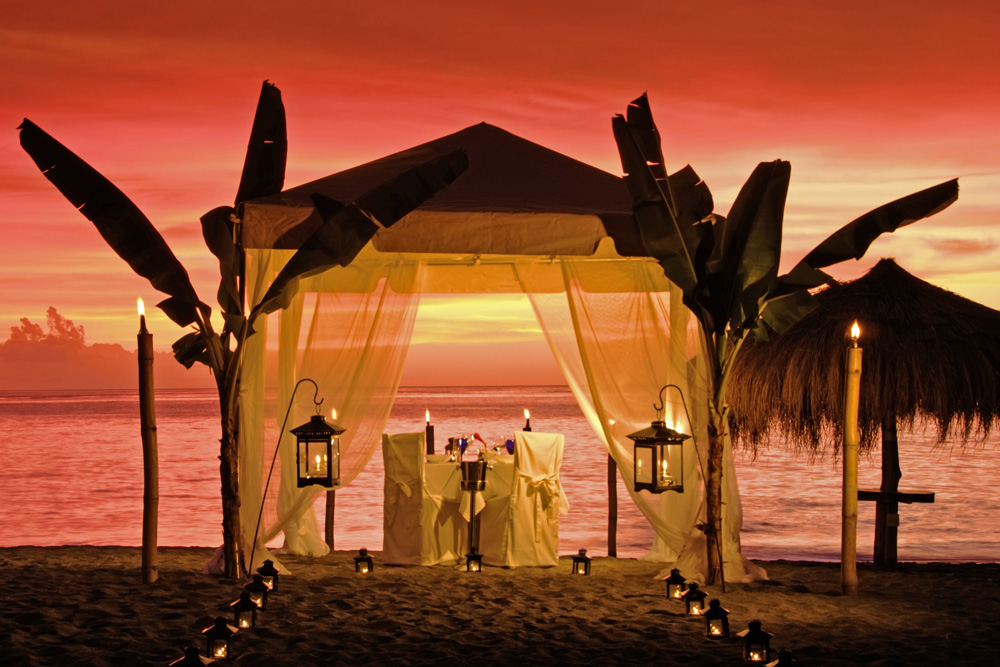 The less actively inclined simply do nothing, lie on the beach or get pampered in the resort's spa, Kai Belté.
There is an open air beachside bar and restaurant and on the hillside, a panoramic hillside lounge and two treehouses provide the romantic setting for candlelit dinners, with musical backdrops by local entertainers. Whether you fancy fine tropical Caribbean Cuisine, exotic Creole flavors, or simple grilled fare, you will find it available and more. The resort's culinary options also include a St.Lucia- East Indian menu titled Apsara, a wholly vegetarian restaurant called Emerald's and the Jungle Grill for day time laid back dining on the second beach of Anse Mamin. If romance is on your mind, plan ahead and pre-book a private beach dining experience on the Anse Chastanet beach or the Ultimate Beach Castaway dinner on Anse Mamin beach.
But very often, travelers no longer base their travel decision on the attractiveness of the destination alone, but they want to be assured that the resort of their choice embraces sustainable practices. It is therefore important to know that the owners, Nick Troubetzkoy together with his wife Karolin were committed to a sustainable resort development and operation long before sustainability became the " must do "  within the tourism industry.  From the onset, they aimed to keep as much economic benefit as possible in the region. The resort has either made all furniture and furnishings locally, with local labour, or purchased them from local businesses. Anse Chastanet emphasizes the use of fresh, local products with a purchasing plan that includes certified organic foods, sustainable agriculture eco-labeled foods, and locally produced foods. The resort  provides ongoing guidance and training to local farmers and operates an organic farm using certified organic seeds only. Very often, guests are given the opportunity to partake in an environmental activity such as reef cleaning, beach cleaning, or tree planting.
For more resort information, call 1-800-223-1108 or visit the resort website http://www.ansechastanet.com
For latest promotions, visit http://www.ansechastanet.com/promotions.html
For travel within the next few months, a 4th AND 7th night free is offered in selected categories on basis of the resort daily rate. If a meal plan is added then the free nights will have same meal plan free of charge. The resort daily rates per couple in standard, superior, beachside deluxe accommodation respectively are US 330/ US 420 / US 525. To add breakfast and dinner, please add US 160 per couple per day. You can also add an all-inclusive meals and drinks package to your room rate, at US 310 per couple daily. All above rates – rooms and meals – are subject to 8% tax and 10% service.